Her Day is Done: In Memory of Maya Angelou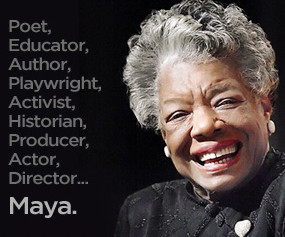 Dr. Maya Angelou, a well known author who knew how to convey her words, was acclaimed worldwide as "the renaissance woman" for her poetry and inspiring words, along with her works in the art of dance and music. She spent her life as a poet, activist, and taught for 32 years as a professor of American Studies at Wake Forest University in Winston-Salem, North Carolina. On May 28, 2014, Dr. Maya Angelou passed away due to reported health complications, with her friends and family by her side. Dr. Maya Angelou was an influence to the world and many idolized her as she shared experiences of the pain she lived through. Her guidance will be continually treasured, and in her memory, I dedicate this poem:
Her day is done as she once said,
the accomplishments fulfilled and
her words spoken and read
Her day is done for all the pain and misery
that she went through in life, for she has battled and preached
it all in her writings and had given us solemn moral advice
Her day is done and our Renaissance woman is gone,
without her enlightened soul what will this world that we live in become?
Her day is done and now I know why the caged bird sings,
it sings to fly out so it can let freedom ring
Her day is done and she will be highly missed,
now she is in the heavens
where she has found her eternal bliss
"I've learned that people will forget what you said, people will forget what you did, but people will never forget how you made them feel." – Maya Angelou