Gables Goes Into Renovation!
For one of the most overcrowded schools in the county, Gables High appears to be practically abandoned– but it seems like that is about to finally change.
On Feb. 1, the Parent Teacher Student Association (PTSA) convened a meeting graciously hosted by school board Representative Mari Tere Rojas in the auditorium to discuss the current decrepit state of the school. Although not much has been done over the last few years to repair the complete and utter shambles our "learning" facilities are in, thanks to the concerned parents, administrators, teachers, students and even alumni who attended, this assembly marked just the beginning of renovating the filthy, destitute landscape that has become our school.
Shortly after the meeting began, Chief Facilities Officer for Miami-Dade County Public Schools Jaime Torrens went straight to identifying the very issues that prompted everyone to gather that afternoon in the first place: peeling paint in buildings six and seven, several broken windows and roof leaks throughout the school, faulty plumbing in restrooms, air conditioning problems, defective electrical systems and the list goes on.
Torrens declared that alongside the school board, his team is currently working with an architect in preparing a plan that will set up the design layout for what is to be expected in terms of aesthetic and infrastructural refurbishment. This plan, which is developing partly based on preliminary feedback from Principal Adolfo Costa, will be presented to the community in a forum sometime in March, where it will be subjected to any changes that the PTSA or anyone else who attends suggest.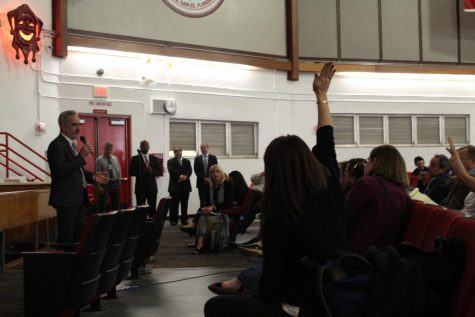 The funding for this plan will come from the General Obligation Bond, which will be investing 12 million dollars into the first phase of the renovation process. This statement alone raised eyebrows among many parents, and caused a few to question why neighbor Palmetto High School recently received 44 million dollars for their own renovations—almost four times as much as our school. Torrens explained that the amount of funding a school receives is dependent on what and how much needs to be done, not the other way around. In other words, as for now, based on the information his office has entered into a database to calculate the amount of subsidies necessary for repairs, the school is being granted 12 million dollars, and should any other problems that need immediate fixing appear, additional funding will be extracted and bestowed upon the school. At this point however, the school administration should simply get its head in the game and start brainstorming ideas on how to fundraise themselves. Rather than squandering the recent $16,000 donation from the class of 1967 alumni, for example, on television monitors and some tacky digital scoreboard for the gym, they should invest that money into a venture that could resolve at least one of the countless health hazards present around school.
Another pertinent topic that arose was maintenance, which even Torrens admitted would be a tricky endeavor. For years, the school was not properly maintained, which is why many deficiencies are so exponentially visible now. Apparently, funding for maintenance from the state, specifically from the Public Education Capital Outlay, was eliminated over six years ago and restored only slightly about two years ago, making it increasingly difficult to have a remotely desirable level of maintenance.
"A 60 year-old building with 60 year-old air conditioning and plumbing is not maintainable … you keep it patched and you keep things going but you can't really keep it in a state you can be proud of," Torrens said.
Many parents also asked about the feasibility of tearing down the school altogether and starting fresh, but according to Torrens that would not be possible. When a school is in the stages of undergoing repair, if the cost to do so totals over 60 percent of the available budget, then the school board typically decides to take the more drastic route. Unfortunately, as of now, that is not the case for the school, but it does not mean that there are not issues we can start working to resolve; the literal sewage overflowing from the sinks in chemistry teacher and alumna Elizabeth Kiely's classroom being one of them.When Torrens was finished speaking and the floor was opened to comments, it was time for the school board to do the listening, and Kiely was the first to stand and take to the center of room to bravely voice her thoughts on the matter.
"We are the ones here everyday. We are the ones who have to deal with this everyday … when kids see that I have to stop my lesson because sewage is coming out from the ceiling … what kind of example does this show our students?" Kiely said.
Big changes are coming to the school— and it is about time.
View Comments (2)
Your donation will support the student journalists of Coral Gables Senior High School. Your contribution will help us cover our annual website hosting costs.