Un verano productivo: Gablettes asisten campamento NDA
Hang on for a minute...we're trying to find some more stories you might like.
La Alianza Nacional de Danza (NDA por sus siglas en inglés) es una compañía que, además de dedicarse a entrenar a jóvenes bailarines alrededor de toda la nación, también les da la oportunidad de demostrar su talento en grandes competencias. Tras haber participado en dichas competencias durante el mes de febrero, el equipo de baile, Gablettes, aprovechó el verano al asistir a este gran campamento con el objetivo de mejorar como bailarines e integrar a los nuevos miembros. Junto con otros cuatro equipos de baile, Gablettes se hospedó del 16 al 19 de julio en Bonaventure Resort & Spa, donde tuvieron la oportunidad de aprender de profesionales talentosos y forjar el vínculo que existe entre los miembros del equipo.
Durante los cuatro días del campamento, cuatro instructoras de NDA se dedicaron a llevar diferentes talleres para poner en práctica las habilidades de los bailarines para girar, saltar y aumentar su flexibilidad. Así mismo, enseñaron coreografías a los campistas resaltando los estilos de Jazz, Hip-hop, Pom y Kick. Mientras que una coreografía sería presentada y competida como equipo, las demás eran para evaluación individual. Sin embargo, el nivel de dificultad de cada rutina variaba con el propósito de desafiar las habilidades de cada participante a pesar de sus limitaciones y capacidades.
Al final de cada día, se buscaba que los miembros de cada equipo se apreciaran y confiaran entre si por medio de dinámicas interactivas. Las actividades del campamento terminaban a las nueve de la noche, sin embargo, para asegurar su éxito en las evaluaciones, las Gablettes no se retiraban a sus habitaciones hasta haber dominado la rutina de baile aprendida en el día.
"Considero que nuestra asistencia a este campamento ha sido de gran importancia para el equipo no solo por la oportunidad que nos dio para unirnos, pero también la ayuda que nos proporcionó para retener las coreografías en nuestra memoria. Lo que más me gustó de esta experiencia fue el ver a todos energéticos y listos para trabajar," nos compartió junior Gabby Darcangelo.
A lo largo del campamento, los participantes estaban siendo constantemente evaluados, ya que premiaban con listones verdes, amarillos y rosas a los  participantes que demostraran buena técnica, habilidad teatral o espíritu, respectivamente. Al recibir los rosas, los participantes eran nominados para recibir el premio mayor, All American. Además de estas competencias, durante cada dia se realizaron concursos Top Gun para encontrar a los bailarines más talentosos del campamento.
En el tercer día del campamento, las instructoras de NDA trajeron a Alain Márquez, un talentoso bailarín y coreógrafo como invitado. El enseño a los campistas una rutina de jazz-funk avanzada, además de diferentes técnicas para sobresalir en el escenario. Ese mismo día, las evaluaciones individuales tomaron lugar por la tarde, en donde los integrantes de Gablettes triunfaron al recibir sólo listones azules (los de mayor mérito).
"Convertirme en una Gablette, me ha llevado más allá de mis límites, sin embrago esta experiencia en el campamento de verano de NDA superó todas mis expectativas […] salir siendo la única escuela que recibió puros listones azules y una gran cantidad de listones rosados, me hizo sentir orgullosa y realizada de haber pasado por los retos que vinieron con estos cuatro días, " dijo sophomore Sophia Perez.
Finalmente, en el cuarto día la rutina de baile en equipo fue evaluada. El campamento llegó a su fin al repartir los premios y reconocimientos. Después de 4 días de arduo trabajo, Gablettes obtuvó los siguientes resultados:
El premio de excelencia por técnica.
Dos oportunidades de convertirse en instructores de NDA en el futuro (Capitana y senior Janelle Lora-DePalo y senior Chris Caceres).
Tres premios All American (Capitana y senior Janelle Lora-DePalo, senior Chris Caceres y Co-capitana y senior Alessia Casas).
Seis nominados al premio All American (Capitana y senior Janelle Lora, senior Chris Caceres, Co-capitana y senior Alessia Casas, junior Arianna Garcia, junior Emma Bartelt y sophomore Sophia Perez).
Premios Top Gun de kick y saltos para senior Chris Caceres.
Premio de excelencia por liderazgo para Capitana y senior Janelle Lora-DePalo.
About the Contributors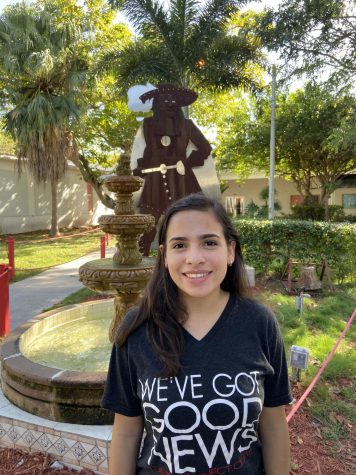 Jimena Romero, Staff Writer
Jimena Romero is a dedicated senior enrolled in the International Baccalaureate career-related program. She is now starting her third year as a CavsConnect...