Caravana inmigrante busca llegar a las puertas de EEUU
Hang on for a minute...we're trying to find some more stories you might like.
---
Entre 500 y 1000 inmigrantes hondureños y de todas partes de Centro América, iniciaron una caravana con el propósito de escapar de la violencia e inseguridad a la que se exponían en sus países. Durante estos dos últimos meses esta ha cruzado el país de México logrando llegar a la frontera estadounidense localizada cerca del el estado de Tijuana el pasado 25 de noviembre. Sin embargo, su intento de cruzar la frontera de forma ilegal resultó en un desastre cuando estos lanzaron rocas a los agentes, quienes como consecuencia, lanzaron gas lacrimógeno para "disipar a la multitud."
Días más tarde, el presidente estadounidense describió el gas como inofensivo, tras haber recibido comentarios negativos sobre el haber expuesto a los niños inmigrantes al gas que puede llegar a provocar perdida de la vista temporal. Otros comentarios que Trump dedicó hacía los acontecimientos ocurridos por la caravana fueron que si la violencia persiste, no dudará en cerrar la frontera por un largo tiempo, además de haber acusado a los inmigrantes varones de haberse aprovechado de la vulnerabilidad de niños y mujeres al usarlos como escudos humanos "mejorando" así sus probabilidades de no ser deportados.
"
De la misma forma en la que los inmigrantes tienen que dejar de resolver la situación con violencia, las autoridades deberían evitar combatirla con químicos y en vez resolver la situación de forma pacífica."
— Freshman Sarya Dany
Aunque los intentos de los agentes por mantener a los inmigrantes fuera del país fueron aparentemente efectivos, los pocos que lograron burlarlos fueron arrestados poco después de cruzarla. Por otro lado, los otros cientos de inmigrantes que no fueron parte de la emboscada, se han quedado en albergues mexicanos donde les han brindado lugar para quedarse y comer, otros se han visto durmiendo en lugres públicos y deambúlando por las calles en busca de comida y 98 de ellos fueron llevados con el Instituto Nacional de Inmigración (INM) siendo más tarde deportados y enviándolos de regreso a sus países de origen.
"Es triste la situación por la que están pasando los inmigrantes al tener adversidades en sus países, puede llegar a no ser justo para ellos la situación y el trato que se les da por las autoridades, sin embargo, también es importante considerar que, de aceptarlos en el país, nuestra economía bajaría de forma significativa y la población se elevaría de la misma forma," nos compartió sophomore, Jada García.
A medida de que pasa el tiempo, la situación se vuelve cada vez más tensa entre los estadounidenses, los inmigrantes y los mexicanos. Mientras que los primeros no cederán ante las exigencias de los inmigrantes, los mexicanos utilizan sus recursos para atender a la caravana. Aunque se identifica su situación como una muy complicada y un tanto estresante, la violencia que ellos han aplicado hacía el proceso que siguen en busca de una mejor calidad de vida, probablemente les ha hecho perder la oportunidad de recibir más apoyo de los países a la que se la están pidiendo.

About the Contributors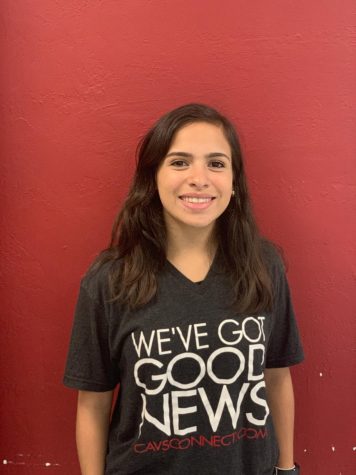 Jimena Romero, Staff Writer
Jimena Romero is a dedicated senior enrolled in the International Baccalaureate career-related program. She is now starting her third year as a CavsConnect...