Espectáculo Fall Frolics 2018
Hang on for a minute...we're trying to find some more stories you might like.
Todos los años se anticipa con gran entusiasmo la presentación de otoño conocida como Fall Frolics. Diferentes grupos de baile de la escuela y las famosas Gablettes se reúnen para mostrar sus habilidades y coreografías. Ocurrido el pasado jueves 15 de noviembre y viernes 16 de noviembre, el show se vendió las dos noches. Padres, familiares y amigos esperaban el espectáculo con fervor, después de meses de preparación de parte de los bailarines.
Al abrir las cortinas y apagar las luces las Gablettes abrieron el espectáculo con un baile como grupo, interpretando la canción "Give In." Esta impresionante coreografía fue seguida por bailes por grado de las mismas Gablettes. Las seniors bailaron "Static," las juniors "Lose My Mind," las sophomores "Call Me Mother," y las nuevas freshman "Ashes." Después, las oficiales de las Gablettes (Julia Andrada, Dominique Babin, Alessia Casas, Miriam Fong, Janelle Lora, Catherine Otano)  bailaron la canción "I Dare You," demostrando sus habilidades como líderes del grupo.
"La coreografía fue muy diferente este año y hemos estado trabajando muy duro durante las prácticas para perfeccionar el baile y para que esté lo mejor posible," dijo sophomore Emma Bartlett.
Aunque las Gablettes son las estrellas del espectáculo las clases de baile electivas demostraron que también tienen mucho talento. Los periodos dos y tres divertieron a la audiencia con coreografías de hip-hop con las canciones "Ric Flair Drip" y "Maybach." El periodo uno interpretó "I Slay," el cuarto periodo "In the Mix,"  y el sexto periodo "Don't Do It For Me." La última de estas clases que bailó, el periodo 5, trajo un sabor latino con un baile de la conocida canción de J Balvin "Mi Gente."
"Fue un show maravilloso. Todos los bailes fueron muy bien hechos y fue agradable ver las coreografías. De verdad que me impresionó mucho ver cuan talentosos son todos los estudiantes que participaron," nos dijo junior Alexa Riedmiller.
Hubo numerosos bailes más de las talentosas Gablettes durante la noche, incluyendo las canciones "Sauvage," "Go Off," "Buleria," "Level Up," y finalmente, "Something New." Además, bailó el grupo de danza india de la escuela, Gables Bhangra. El espectáculo incluyó grupos que no eran de Gables como las Leonettes de la escuela Ponce de León Middle y las Mini Gablettes.
Después de meses de preparación y horas y horas de práctica, el espectáculo resultó extremadamente exitoso y bien ejecutado. El esfuerzo y trabajo de todos los grupos se vio de manera muy clara.
About the Writer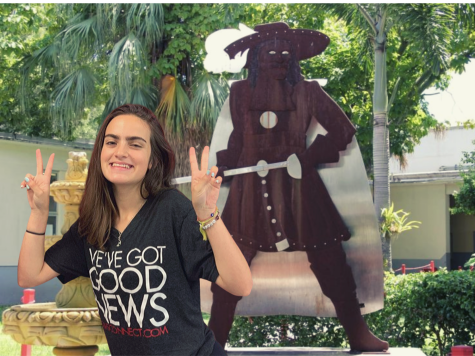 Ana Capiro, Spanish, Student Life and Copy Editor
Ana Capiro is a senior in the International Baccalaureate (IB) program, and can't wait to start her third year in CavsConnect as the site's Spanish, Student...