Trágico incendio en cárcel venezolana
Hang on for a minute...we're trying to find some more stories you might like.
El pasado Miércoles 28 de Marzo se produjo otro catástrofico evento para el pueblo venezolano. En la ciudad de Valencia se efectuó un incendio en una de sus cárceles. Todo comenzó a través de un intento de fuga que salió mal y pusó fin con la vida de alrededor de 70 personas, poniendo a relieve la crisis de venezuela y siendo así el evento en una cárcel venezolana más grande de la historia.
Los hechos comenzaron cuando dos presos intentaron secuestrar a dos policías para así poder fugarse y evitar así una requisa, pero al no poder lograrlo decidieron quemar los colchones de sus celdas como acto de rebeldía, pensando que de esta forma les abrirían la puerta, pero permanecieron atrapados en la celda mientras el incendio se propagaba.
Así se fue expandiendo la situación, el fuego aumentaba, los presos encarcelados y los policías no hicieron nada por intentar abrir las puertas. Al cabo de un tiempo llegaron los bomberos los cuales tuvieron que abrir una salida de escape para los reos, pero ya había sido tarde varios presos fueron hayados calcinados, incluyendo a los dos que comenzaron el incendio y otros fallecieron por causa de asfixia.
"
Al enterarme de el hecho no lo pude creer. La pobre Venezuela está peor cada día. Ningún lugar ya es seguro en Venezuela. Espero que el pueblo se pueda reponer a estos hechos y que vuelva a ser la misma que era antes. Una República grande y fuerte, donde eventos como este no sucedían ."
— senior Katerine Pantoja.
Aunque no es menos ciereto que los responsables del hecho fueron los que iniciaron el fuego, ellos no son los verdaderos culpables, ya que en ese centro penitenciario y en muchos otros de venezuela se reoprta descuido, sobrepoblación y muy mala atención ya que los detenidos deben permanecer ahí por un mínimo de 48 horas, pero debido al lento servicio y a la cantidad de personas que hay allí, permanecen tras las rejas por meses.
"Es muy triste que personas pierdan la vida y más cuando no son ellos los responsables, mi más sentido pésame para todos sus familiares," dijo senior Jennifer Rico.
Los hechos fueron debastadores, no hubo ninguna acción rápida o efectiva por el gobierno venezolano, pero lo que es aún más desconcertante es que el Presidente de la República Bolivariana de Venezuela, Nicolás Maduro no ha hecho ninguna declaración pertinente a los hechos sucedidos o apoyado a la familias dagnificadas.
"Es increíble, hasta cuando va ha seguir Maduro en la presidencia de Venezuela," dijo senior Julio Sanchez.
La familia de los dagnificados han quedado destruidas, fue un fin que no esperaban, muchas no pudiero despedirse ni dar un último adiós.
Este es otro ejemplo más en el cual se evidencia la depauperarización de Venezuela como gobierno, la situación es cada vez peor, no hay ningún lugar seguro y al final los únicos que sufren son el pueblo, los cuales no tienen ninguna responsabilidad por los sucesos.

About the Contributors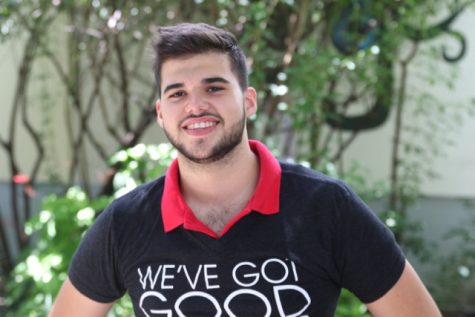 Orestes Garcia, Staff Writer
Orestes Garcia is a rising senior in the Health, Public Service and Law Academy at Coral Gables Senior High. Orestes is a humble and cooperative guy, who...