Incertidumbre para DACA
Hang on for a minute...we're trying to find some more stories you might like.
Ultimamente DACA esta causando una gran controversia. DACA hace referencia a Deferred Action for Childhood Arrivals, la cual se ha mantenido por varios años. Sin embargo, desde la entrada del presidente Trump al gobierno la situación de los individuos protegidos por DACA se ha visto muy inestable. Recientemente una lucha por asegurar el destino de los varios 100 mil inmigrantes, conocidos como Dreamers. El Congreso ahora va a tratar de llegar a una solución para los inmigrantes indocumentados traídos a los Estados Unidos como los niños, en equilibrio con las mejoras en la seguridad fronteriza.
Algunos inmigrantes fueron calificados como DACA en julio de 2012, cuando el entonces Presidente Barack Obama anunció firmar una orden ejecutiva que dirige el Departamento de justicia a aplazar la acción legal contra algunos inmigrantes que fueron traídos a Estados Unidos ilegalmente como menores de edad y que puedan trabajar o ir a la escuela en los Estados Unidos sobre permisos renovables de dos años.
"Me parece una situación muy injusta para las personas que se amparan en DACA. Pienso que es terrible que estas personas esten viviendo en una constante incertidumbre sin saber el dia en el cual su vida dara un giro completo," sophomore Luis Gonzalez dijo.
La situación actual es que los demócratas y moderados de inmigración buscan un proyecto de ley que no sólo cruza el umbral de 60 votos del Senado pero resulta tan popular que incluira la casa blanca, también. Si el presidente Trump respalda un acuerdo del Senado, el pensamiento va, será mucho más fácil mover algo a través de 'House', aunque la administración ha eludido respaldo a cualquiera de los posibles compromisos que flotó hasta ahora. Mantener DACA a cambio de más seguridad en la frontera es el esquema básico de lo que sería un compromiso. Pero lo que importa es los detalles, como el dinero destinado a asegurar la frontera y si fondos para una pared es parte de ese paquete. Líder de la minoría, Chuck Schumer, dijo que ofreció el dinero de la casa blanca para la financiación de la pared el viernes como parte de un acuerdo, pero retractó la oferta el domingo debido a la reticencia del Sr. Trump a aceptar la oferta. Los conservadores esperan apoyar con fuerza la financiación para la pared, una gran prioridad de la casa blanca, aunque cualquier financiación es probable que se ejecute en dura oposición de los liberales.
"Espero que la resolución y la propuesta de Trump no se ejecute. Esto afectaría las vidas de muchas familias, y es importante que el gobierno piense también en el bienestar de las personas," senior Maria Gonzalez dijo.
El presidente Donald Trump insistió que si no hay un acuerdo para construir el muro fronterizo con México no habrá una solución definitiva para los dreamers: "Queremos el muro. El muro sucederá o no tendremos DACA," dijo el presidente Donald Trump. La Casa Blanca presento ciertas medidas que se tomaran, cuyo costo total es de 33.000 millones de dólares. Esntre las medidas se encuentra aumentar la seguridad en la frontera lo cual pone en peligro la posibilidad de un acuerdo con los demócratas para proteger a los dreamers, jóvenes indocumentados que están en el país ilegalmente y entraron cuando eran menores de edad.
Estas personas se les ofreció una opción sobre su situación, sin embargo, ahora se les están quitando todos sus beneficios. Es una terrible situación para estas personas ya que ahora viven con incertidumbre no sabiendo que es lo que sucedera con ellos. También, muchas de estas personas han crecido toda su vida en U.S. y han contribuido grandemente a el país. Mas aun, muchas de estas personas han establecido su vida en U.S. y deportarlos arruinaria todo lo que han construido con el paso del tiempo, ya que muchos ya no tienen familia en sus países de origen y han hecho una vida en U.S.
About the Contributors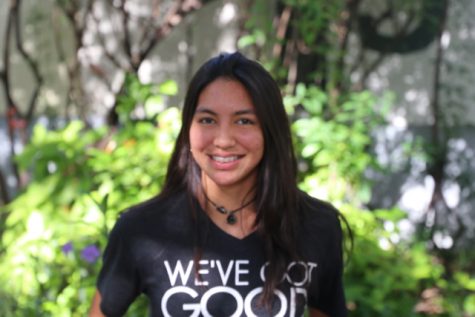 Paula Gonzalez, Staff Writer
Paula Gonzalez is a senior in the International Baccalaureate (IB) program at Coral Gables High School. Coming from Perú her sophomore year, she quickly...