Clase del 2019: Ceremonia de ingreso IB
Un nuevo capítulo para la clase del 2019
Este miércoles 24 de enero estudiantes de undécimo grado en el programa bachillerato internacional tuvieron su ceremonia de ingreso. Tal ceremonia representa la entrada oficial de los estudiantes al programa y marca el comienzo de sus vidas como ciudadanos globales. Ya habiendo pasado un semestre oficialmente en el programa, esta ceremonia sirve como un recordatorio de todo su trabajo en los últimos dos años como estudiantes pre-ib y para asegurarlos de los éxitos que tendrán en el futuro.
La noche comenzó con unas palabras por parte de Catherine Healy y Yanik Ariste, dos estudiantes de duodécimo grado. Luego, Savannah Payne dió un discurso donde les recordó la importancia de estar preparados y poner el máximo esfuerzo. Al seguir, estudiantes de todos grados se introdujeron y hablaron sobre la ceremonia en su lengua nativas. Para nombrar unos pocos, se oyó español, árabe, alemán, catalan, italiano, francés y esloveno.
Nuestro director, Señor Costas se dirigió a la audiencia contando de su orgullo y amor por la escuela. Habló de la dedicación de los estudiantes y el apoyo de los padres, que ha permitido que Coral Gables avance y prospere. El señor Costa fue seguido por el presidente de la cámara de comercio de la ciudad de Coral Gables, Mark A. Trowbridge. Trowbridge enfatizó la importancia de la diversidad y una perspectiva global, conectando esto con el futuro de la ciudad de Coral Gables como un poder económico y cultural. Para finalizar esta parte de la ceremonia Ms. Van Wyke, la coordinadora del programa, dio unas palabras sabias para los estudiantes de once grados.
Después de estos discursos comenzó la ceremonia oficial, en que cada estudiante fue presentado con una rosa y un sello con el insignio IB. Cuando ya todos los estudiantes de tercer año del programa bachillerato internacional fueron presentados con su sello posaron para una gran foto colectiva para conmemorar la importante noche.
About the Writer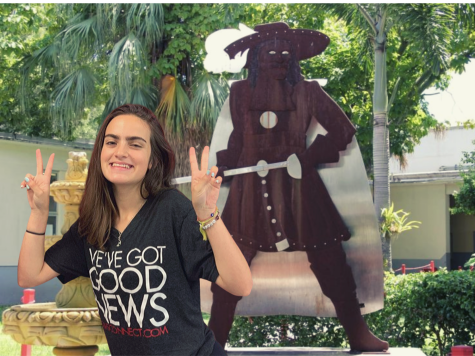 Ana Capiro, Spanish, Student Life and Copy Editor
Ana Capiro is a senior in the International Baccalaureate (IB) program, and can't wait to start her third year in CavsConnect as the site's Spanish, Student...