Fatal incendio en California
Seis mounstrous de fuego azotan California de manera brutal, el primero de ellos fue el Thomas que dijo presente el lunes en la tarde en Ventura. Luego entre el mismo martes y el miércoles un Tridente azota a Los Ángles : Creek, Rye y Skirball. Riverside se vio afectado el jueves por el incendio Liberty seguido por Lilac que atacó fuertemente a la Comunidad de San Diego y dejó sepultadas en las cenizas varias viviendas. Los bomberos de California, están haciendo un efuerzo increíble y sobrenatural para poder contener las llamas.
"
Esto es algo que afecta a muchas personas y esperemos que con la ayuda de todos California pueda recuperarse pronto. Si todos trabajamos juntos lo podemos lograr ."
— freshman Jeyra Rivero
Los incendios están quemando en su totalidad un área más grande que las dimensiones de New York y Boston juntas. El más grande de los incendios al cual podemos llamar un mounstruo de fuego, es el Incendio Thomas el cual cubre más de 9300 héctareas, constituyendo así ser el quinto incendio más grande de la historia moderna de California.
Más de 6000 bomberos en tierra, helicópteros e incluso ciudadanos tratan de detener las llamas gigantescas, lanzando retardantes de calor y agua sobre el foco de los incendios. Las imágenes parece un fonfo amarillo [llamas] con una cortina gris [humo] pero gracias a el esfuerzo y cooperación de todos, el incendio pudo ser controlado, demostrando así que en la unión está la fuerza.
"Los incendios han forzado la evacuación de unas 190.000 personas y amenazan a 23,000 hogares, Cuenta Oficial de el Departamento de Bomberos de California.
Debido a los incendios forestales que arrasaron con las viviendas, ocasionaron algunas muerte y obligaron a muchos ciudadanos a abandonar sus casa, el Presidente de los Estados Unidos de América, Donald Trump declaró. este viernes el Estado de Emergencia en California y autorizó a su vez el uso de los fondos federales para así apoyar a los condados de: Los Ángeles, Santa Bárbara, Riverside, Ventura y San Diego para así reparar los daños ocasionados por los incendios y crear condiciones para que no se vuelvan a reproducir
"Los incendios forestales en California son muy perjudiciales para el pueblo y el gobierno"dijo el senior Hanser Perez
Los incendios en general han causado una pérdida de más de nueve millones de dòlares y corresponden a el segundo brote de incendios de la temporada de Otoño.
About the Contributor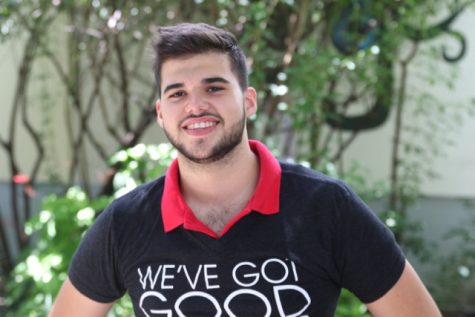 Orestes Garcia, Staff Writer
Orestes Garcia is a rising senior in the Health, Public Service and Law Academy at Coral Gables Senior High. Orestes is a humble and cooperative guy, who...