Code it Like a Girl: She Codes
Make sure to check out Gables' new club this year, She Codes! The club "aims to expose young girls to engineering and coding, promoting their involvement in STEM-oriented fields."  Women today represent only 18 percent of all computer science graduates. In 1984, they represented 37 percent. Join hands with She-Codes to help change these numbers.
"I think it's a great [club]. Woman have to keep fighting for equality and show the world we can do anything. [It's a] great way to show what we can do and to keep growing out of our gender stereotype everyday more and more," freshman Alejandra Rivera said.
The founder of the club, Sofia Quevedo, is a junior in the IB Academy at Gables. She first realized the necessity to start a She-Codes club at Gables when she entered her programming class and the majority of the students in it were boys.
"
I wasn't surprised, since I had heard that it was primarily a class that attracted males, but I definitely wanted to do something about it!"
— Sofia Quevedo
Quevedo took action and paired up with Mathematics Teacher Ms. Herrera to close the gender gap in technology fields.
Members of She Codes will learn about basic coding and robotics. Then they will visit elementary schools and try to interest girls in coding and robotics. By doing so, She Codes hopes to demonstrate "that these are promising and exciting fields for women" and increase numbers of women in technology.
"I believe the club will be highly successful and will definitely inspire other young women. Sofia was a superb student in my Dual Enrollment class, so when she asked me to be the sponsor I didn't even have to think twice," Herrera said.
Technology is the key to our future. Help inspire girls today by joining She-Codes! For more information, visit www.She-Codes.net
About the Photographer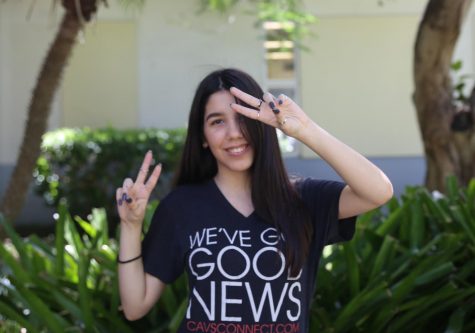 Yeileny Lopez, Staff Writer
Yeileny Lopez, also known as Lenny, is a proud senior in the International Baccalaureate (IB) program at Coral Gables Senior High. She is extremely grateful...