Catch-up With Rafael Gonzalez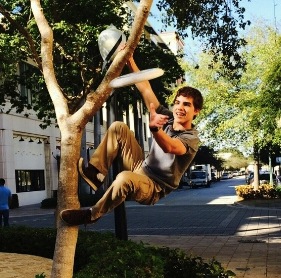 As the summer approaches its end, Cavaliers are beginning to wonder how their peers spent their vacations. CavsConnect caught up with Rafael Gonzalez to find out how his summer break was going.
Gonzalez, a rising junior at Gables, spent the first couple weeks of the break recovering from a hard year of school, winding down, and relaxing. Then, in late June, he took a trip with his family to the Dominican Republic for his aunt's birthday. Gonzalez and his family have been going to the same resort in the country for years, and have thoroughly enjoyed it each time.
"We had a lot of beach days over there . . . It was a really good trip — very relaxing," Gonzalez said.
As soon as he got home, Gonzalez set out to work on a project he had planned for a while: a bodyweight exercise rig. Measuring about 15 feet wide by 20 feet long, the rig features a pull-up bar and a precision trainer for jumping. Gonzalez holds an interest in Parkour, and is always finding new ways to practice. The project isn't finished yet; if all goes as planned, the rig will also have a climbing rope, a set of parallel bars, and a number of other bars to swing between and balance on when it's finished.
Parkour isn't the only less-than-common form of exercise Gonzalez enjoys – he also plays frisbee. Gonzalez is one of a group of Gables students that enjoys playing Ultimate, a game played with a disc similar in concept and objective to football. Over the break, he's gone out and played Ultimate on a number of occasions, both for fun and as practice.
"We've gone to play at the Youth Center one time so far, but playing at Sunset is also good. Hopefully we'll be able to get a frisbee club started at the school at some point," Gonzalez said.
Outside of working on his bodyweight rig, Gonzalez doesn't have many other plans for the rest of the summer. He's also starting to get ready for the 2014-2015 school year, just like all of Gables' Cavaliers.