Binge on Pins
While researching for this article, I found myself lost in a sea of luxurious Louboutin's and scrumptious snacks that left me salivating. I had explored Pinterest.
Pinterest is a website and app that people use to "pin" their ideas and interests visually into stockpiles; these are called boards. Essentially, it's a more organized version of Tumblr. An idea hoarder's wonderland, Pinterest is a good place to frolic and make fascinating discoveries. There are creative categories galore to check out, ranging from "Architecture" to "Geek." Under each category, you will stumble upon inventive–and sometimes resourceful–images relating to the topic, which then gives you the option to like, send via email, or "pin" to one of your original boards.
"I love Pinterest because other people's creativity inspires and fascinates me everyday," said freshman Kristina Sodamin.
Think of a board as a dream journal. You can conjure up whatever theme you may desire, give it a title, and log your hopes systematically. For a change, create a board to amass clever ideas and scheme about future events. Some users' boards already have their weddings and next getaways planned down to a tee.
Depending on your interests, feel free to roam the 38+ categories on this virtual pinboard. Two of the most popular sections, "Food & Drink" and "DIY & Crafts," are sure to captivate any adventurer's eye. The "Food & Drink" section is chock-full with photographs of delicacies that will no doubt make your mouth water, while "DIY & Crafts" is made available for you homemade enthusiasts with scarily adept hands. Pinterest has considerately thought about every hobby under the sun.
Though it seems like Pinterest has thought of everything, it still needs to work out a few kinks on its site. You will find yourself wearing down your backspace key as you constantly go back and forth between different boards and feeds. This can be fixed simply with a straightforward hyperlink; so, what's up Pinterest? Another minor flaw is that some of Pinterest's features are completely baffling. For instance, after investigating extensively through the mapping feature, I still can't figure out whether or not it is trying to organize my travel aspirations or track my every move. As for the Pinterest app, it's simplistic design makes sifting through new concepts almost effortless.
You can tell a lot about a person from their Pinterest boards. You get a glimpse at their aspirations and passions. Of course, if you do not want to be totally open for business, take advantage of your right to privacy and opt to set up a "secret board" that is visible to only you and your invited peers. Although, who knows, you may inspire someone. So, don't be shy, and pin your world on Pinterest.
Leave a Comment
Your donation will support the student journalists of Coral Gables Senior High School. Your contribution will help us cover our annual website hosting costs.
About the Contributor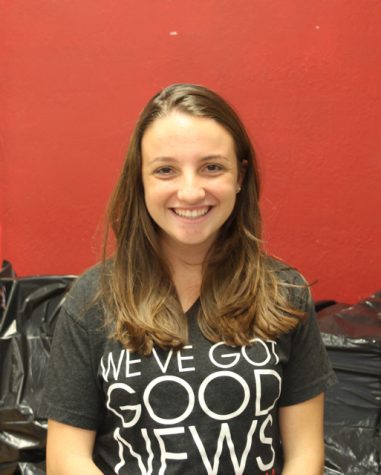 Annie Farrell, Copy Editor
Annie Farrell is a senior in the International Baccalaureate (IB) program at Coral Gables Senior High School. A seasoned Cavalier, Annie is involved in...