Banana Berry Café: A Health Guru's Dream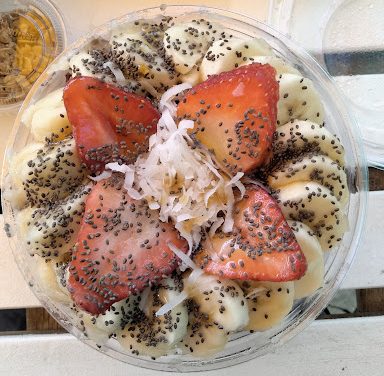 Our Rating: A
Location: 305 Alcazar Ave #1, Coral Gables, FL 33134
Right across Alcazar Avenue & Salzedo Street lies a health-focused café and juice bar utilizing some of the finest freshly-made ingredients to create amazing flavor. While promoting a healthy alternative to our normal morning routines, Banana Berry makes sure not to leave any impressions right away to miss.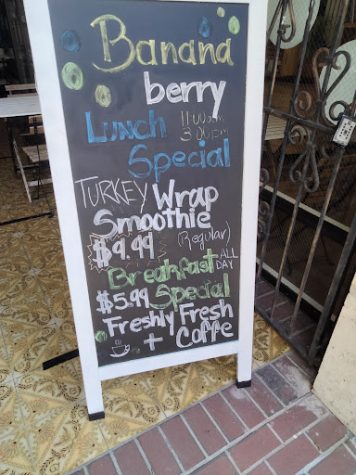 The health-focused shop features a vast variety of juices, smoothies, bowls, salads and wraps. Not to mention, there are a variety of healthy breakfast options. The "Power Breakfast" series features food that will give you the energy you need for the mornings as well as making it feel light on your stomach. One of the great options within this series is the "Classic American Box" which includes egg scramble, cheddar cheese, bacon, a side of toast and berry jam; Banana Berry is not open on Sundays, but throughout the week, the shop offers specials of the day from Monday to Friday until 3 p.m.
"The smoothies themselves were very healthy since they tasted just like the original fruits and they were very good. I asked for a strawberry smoothie and I did not get disappointed by a result," freshman Keith Hernandez said.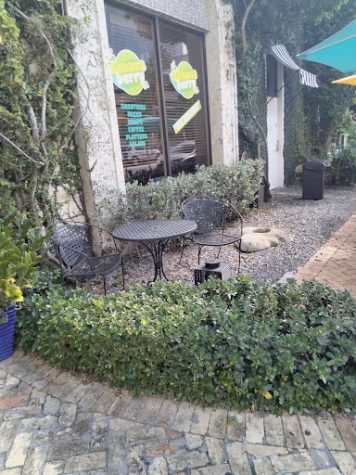 What makes Banana Berry special from other health-focused shops is it's açaí and nutri bowls. The açaí bowl essentially is a thick smoothie poured into a bowl with fruit toppings added on top of the smoothie from strawberries to bananas, blueberries or shreds of coconut. The açaí berries inside the smoothie already provide the vitamins and antioxidants which in return provide the energy boost you needed for early mornings. However, the nutri bowls consist more of proteins, healthy fats and carbohydrates mixed into a bowl for a nice nutritional meal usually for lunch. The best part of the nutri bowl experience is the fact that there are multiple combinations to choose for your veggie, protein or extra which can be avocado or other ingredients depending on order.
Banana Berry gives customers the choice to customize your drinks, nutri bowls, wraps and salads freely to their desires with that option. They also let you add certain fruits or ingredients depending on your order. The shop's customer service is great; they are friendly and patient when you are ready to order.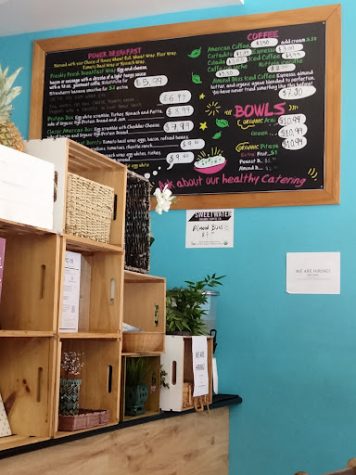 "I certainly like the atmosphere it has. I'm not exactly sure how to explain but it has this really tropical and colorful vibe to it, which I can see many people being comfortable with. I say this because it has many plants, fruits and a colorful menu that really pops. Despite it being a small space, the place has some nice tables where you can sit and some outside as well. It also accompanies it, which makes the place more lively," freshman Lucia Novo said.
One of the few downsides of the shop is its limited indoor seating— the inside space is rather small compared to other health-focused cafés. Although the shop offers some indoor seating, if customers do not wish to eat inside, there is an arrangement of seats outside of the shop with pleasant scenery you can enjoy as well. There are also comfortable table patio umbrella seats you can sit on while being protected from the sun. Masks are required but if customers are still hesitant to enter, Banana Berry offers delivery either through their own website or through popular food delivery services like Postmates, Uber Eats or GrubHub.
Overall, although the shop is on the pricier side, the amazing flavors, quality of food and the atmosphere of the place cancel out all downsides of what Banana Berry brings to the city of Coral Gables.