FBLA Returns to State Competition for Second Year in a Row
Grinding out hours of preparation over the past few months, Future Business Leaders of America came prepared for their annual award ceremony. On Jan. 26, students came to school decked out in business attire to take on the competition at South Dade Senior High School.
Prior to the event, FBLA members had the opportunity to speak with Mr. Reisert and select their respective events. From public speaking events to a written 100-question financial test, FBLA members practiced for months as if a panel of judges was present.
While most students aimed for business categories, a few students were labeled as candidates for the 2023-2024 District 26 Board. These selected individuals were responsible for delivering a 1-minute speech at the assembly, up against more than ten schools.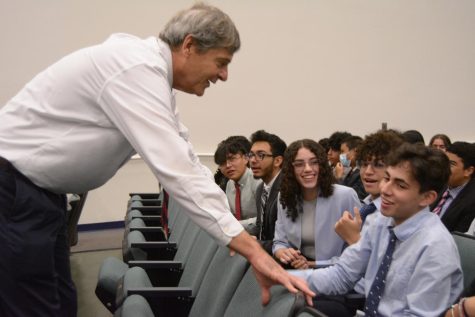 At 8 a.m., students mounted two buses with chaperones Ms. Lewis, Mr. Ball-Llovera and Mr. Pico. Focused on everything but the ceremony, students chatted to rid themselves of jitters. 
"I was confident the students would do well. After the competition, I was very excited and very pleased with the results. Forty-eight students qualified for States, that is an extraordinary number. Even for those who didn't qualify, they made an effort and they tried, and we're proud of everybody," FBLA sponsor Mr. Reisert said.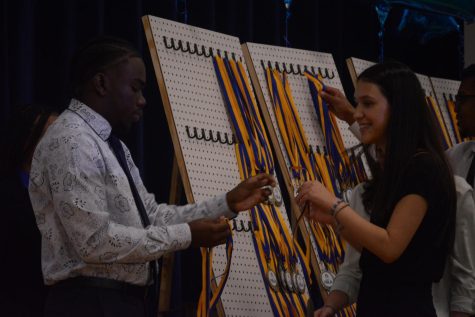 Financially savvy Cavaliers flooded the scene as contestants met the FBLA District 26 board. Kicking off the event, Junior Reserve Officers' Training Corps presented the flags and recited the pledge of allegiance before a massive crowd. Then, students rose and recited the FBLA pledge altogether. 
Coral Gables Senior High students Sebastian Montoya and Balery Quiñonez approached the spotlight with confidence. Both Cavaliers pieced together a speech for the entire FBLA student body. Ballots were distributed so the audience could vote for the preferred candidates. Once submissions were finalized, everyone hushed in anticipation.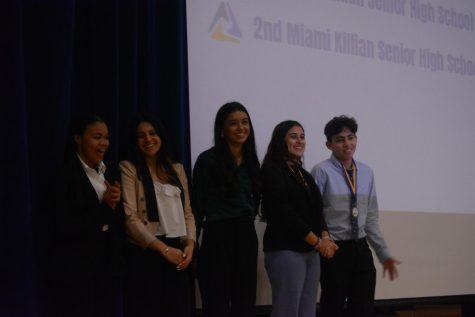 "Honestly, leading up to my speech, I did not have anything prepared but knew that I should just be and do what I do best and bring humor to the table. During the moments leading up to the announcements [of who would be on the District board next year], I felt confident and believed that I had a good shot," junior Sebastian Montoya said. 
At the end of the competition, a PowerPoint displayed the names of medalists from first to fourth place. Gables FBLA team cheered loudly for each student receiving an award.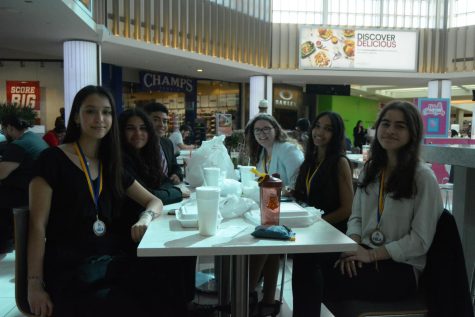 The moment of truth arrived as current FBLA board members announced the newly elected representatives. Among the few winners, Cavaliers Montoya and Quiñonez were congratulated for their outstanding achievements. Following a round of applause, the ceremony adjourned. 
"I did not know what to expect. I was confident that I had a good shot of placing, but at the same time I was super nervous, knowing that I shouldn't get my hopes too high. When they called my group's name as first place, we were already celebrating as we walked to the stairs of the stage," senior Mariam Aguilar said.
Satisfied with their performance, FBLA members re-boarded the buses to grab lunch at Dadeland Mall. Students and chaperones filled the lines, selecting restaurants like Chick-fil-A and Shake Shack. Group pictures and smiles won the day.
Those who qualified will attend the state competition in Orlando from March 24 to March 27. Wish these Cavaliers luck as they look to represent Gables and earn a spot for Nationals.
Leave a Comment
Your donation will support the student journalists of Coral Gables Senior High School. Your contribution will help us cover our annual website hosting costs.
About the Contributor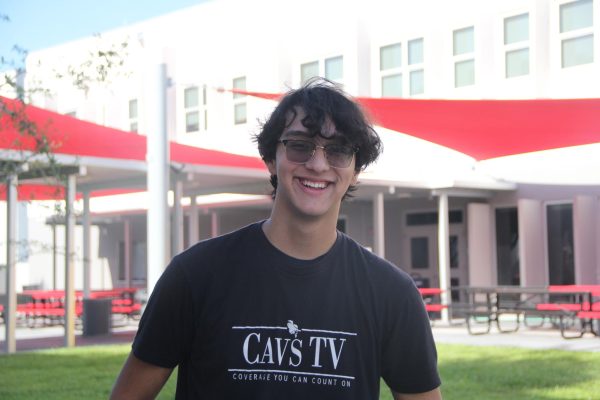 Matthew Castano, CavsTV Staff
Meet Matthew Castano, a talented junior in high school who serves on the boards of FEA, FBLA, and AOF. With a passion for videography and photography,...