Desiree DeStefano Talks Finance with FBLA
Invited by board members of Future Business Leaders of America, Desiree Destefano, Chief Financial Officer of Mariposa Capital, made her way to Coral Gables Senior High to give a speech. During third period on Oct. 27, students and faculty members gathered in the auditorium to hear her speak about her life journey and the paths she explored to make it to her CFO position.
Starting off with a backstory of her childhood, Destefano elaborated on how she was introduced to the business industry and accounting. Since there were no finance classes at her high school, Miami Killian Senior High, her mother taught her step-by-step how to understand accounting, which she later used to do the work for her family-owned garbage business.
"Just because you're in business doesn't mean that your words don't matter. If anything, they matter more than your numbers," Desiree Destefano said.
That newly found interest in finance led Destefano to later apply and get accepted into the University of Pennsylvania Wharton School of Business in 1985, where she concentrated in accounting and management. Later on in her college years, she was recruited to the PricewaterhouseCoopers Accounting Firm, in which Destefano was an employee for three years. She went on to later expand her contracts through new job positions at six other accounting firms such as Jarden Corporation.
In 2013, Destefano finally departed from being an employee for others and opened her own family investment office, Mariposa Capital, located in Miami Beach, Fla. Mariposa Capital has a small portfolio of large companies that they guide in making business decisions such as buying a business or stock options.
"
Don't do anything for the money. Just do what makes you happy and you'll see that the money will come,"
— Desiree Destefano
Destefano went on to speak about some life lessons that she had learned along the way to her present success. She disclosed some not-so-secret secrets to being a successful businesswoman and developing an inner financial leader in oneself. Stressing the importance of relationships, Destefano incorporated this theme throughout her speech. She expressed how during her years in college she made her most memorable connections by simply being kind, and these relation still have an impact on her life to this day. As she explained, these life-changing relationships led her to become CFO of Mariposa Capital.
"The job of a CFO is something that we talk about a lot in FBLA, however I don't think that many students understand what the job actually entails and how much work is required for it, so I thought that what Desiree Destefano spoke about was a great learning opportunity for those students," senior William Beardslee said.
Once the seminar ended, Destefano stood at the door, offering a firm handshake to those who asked for assistance. To close off their time together, FBLA members were treated to a Krispy Kreme doughnut before being sent to their next class.
Leave a Comment
Your donation will support the student journalists of Coral Gables Senior High School. Your contribution will help us cover our annual website hosting costs.
About the Contributors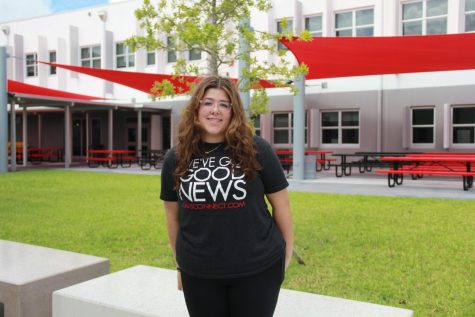 Gabriela Vega, CavsConnect Staff Writer
Gabriela Vega is a sophomore in the International Baccalaureate program at Coral Gables Senior High. This is her second year in the publication and she...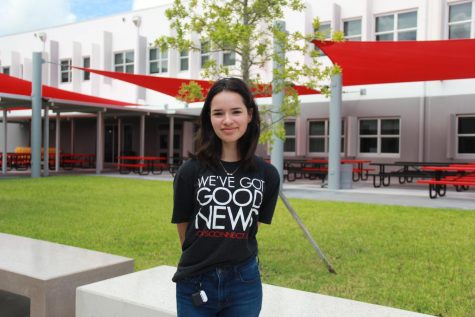 Maria Odio, CavsConnect Features Editor
Maria Odio is a senior at Coral Gables Senior High and is looking forward to continuing her writing career this year as features editor for CavsConnect....