IB Juniors Take One Big Step Into the Future-2023
Juniors in the International Baccalaureate program at Coral Gables Senior High have maintained a high Grade Point Avergae while pushing through multiple end of year exams, proving their spot in the program. These juniors have completed two years of Pre-IB classes that have prepared them for the rigor waiting to be seen in their last two years of high school. The IB class of 2024 celebrated their progress at the annual Pinning Ceremony. During this event, these juniors commemorated their official entrance into this highly-ranked program. 
Starting promptly at 6 p.m. on Jan. 25, the doors of the school's auditorium swung open as student volunteers and members of the IB Executive Council greeted the friends and families of the inductees. A collection of art made by Mr. Groff's art students was displayed on stands in the lobby for guests to observe while passing by. Inside the auditorium, Gables's orchestra played music while a slideshow of pictures was displayed on a screen, illustrating the class of 2024's growth over the years.
The ceremony officially began with an exhibition given by a few of Ms. Barrow's theatre students, who performed a five-minute monologue celebrating IB's diversity. Advocating for the same cause, junior class secretary Lorenzo Londono covered a canvas with paint, aiming to illustrate the program's inclusivity and distinction. Upon completion of the painting, Londono uncovered a planet with a hidden IB trademark. Following that visual performance, the Junior Reserve Officer Training Corps marched up the stage and presented the colors, followed by the pledge of allegiance and the national anthem sung by two members of choir. 
"[The monologue] was about how everyone comes from different backgrounds and has a distinct point of view, which when we all put our opinions together, it makes art, and that is exactly what IB is like," junior Valentina Gutierrez said.
To highlight the "International" aspect of the program, IB students spoke in various languages: English, Spanish, Italian, French, Portuguese, Catalan, Bulgarian, Mandarin and Russian. As all students in this program are required to take one of the three foreign language classes offered at Gables, Spanish, French or Italian, these courses pose as a entryway to cultural awareness which ultimately improves their ability to go about future hardships.
"This event will forever be held close to my heart, because it helped me realize how far I've come in this program, and that I will be so thankful of all of this hard work in the future," junior Samantha Perez said.
The Masters of Ceremony, Edgar Perez and Carla Nunez, then introduced an upperclassmen speaker: Francisco Sara. This IB senior revealed his experiences as a dedicated student and his hopes for the near future. As his speech came to an end, the MC's went back on stage, followed by a series of short speeches made by Kevin Moure, Maria Jose Cestero and Ms. Van Wyk, to debut the pinning process. 
The stage curtains then opened, unveiling the tables with IB notebooks, pens and white roses for each junior. They walked on stage to shake hands with principal Mr. Ullivarri and IB academy leader Ms. Van Wyk as they were congratulated for their efforts thus far in the program. At the bottom of the stage stood their fellow senior IB classmates, waiting to pin them. Closing the ceremony, students gathered on stage to take photos and sing the school's alma mater.
"It was such a great experience, I got to see people I've known since freshman year get pinned right next to me, so it was really rewarding to see the work pay off," junior Georgia Rau said.
These pins will follow them on their IB journey as they chase their ultimate high-school goal: receiving the IB diploma. The next few years will be filled with lots of commitment and hard work, but will ultimately push these students to reach greatness.
Leave a Comment
Your donation will support the student journalists of Coral Gables Senior High School. Your contribution will help us cover our annual website hosting costs.
About the Contributor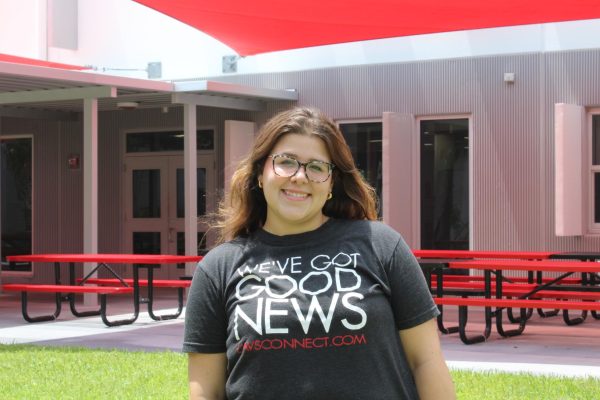 Gabriela Vega, CavsConnect Staff Writer





Gabriela Vega is a junior in the International Baccalaureate program at Coral Gables Senior High School. This is her third year in the publication,...