The French Honor Society: Giving Students a Taste of France
A school ingrained with culture, Coral Gables Senior High strives to keep its halls diverse and filled to the brim with students of various ethnic backgrounds. Among the slew of clubs that work towards keeping customs alive such as the Spanish Honor Society and the Bhangra Dance club, the French Honor Society helps bring a piece of France to Gables.
A club centered around French culture and language, FHS allows students to discover France from afar. Aiding French speakers, whether native or not, the club has helped students find a home away from home for those who are from the country or even those who are just interested in the culture.
FHS was created by four students in 2017 who decided that Gables was lacking a French community which the other languages such as Spanish and Italian had. After choosing Madame Rouit as their club sponsor, the students established the club, which grew as it welcomed students. As years have gone by, FHS has increased in size, beginning at about five members to now having around 80.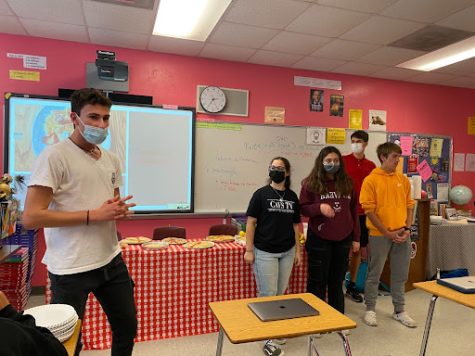 "I joined the French Honor Society because I am in the French program at Gables, so I thought it would be a good opportunity to get more involved in the French community. To me, FHS is a really fun club, it represents a sense of happiness and comfort," sophomore Steffi Sarmiento-Mena said.
While teaching the French language is one of the club's main priorities, ensuring students become familiar with French culture such as holidays and cuisine is also important. On holidays such as Three Kings Day or the Chandeleur, a french tradition where people eat crepes to celebrate the fertility of the earth, the members volunteer to make traditional desserts and share them amongst students.
On Feb. 3, FHS threw a crepe party after school to celebrate the Chandeleur. For the festivity, board members made about 10 to 20 crepes each and the club itself was in charge of the condiments which included bananas, strawberries, Nutella and plain sugar. To celebrate Three Kings Day, students brought a traditional pastry, the galette des rois, to help commence the holiday.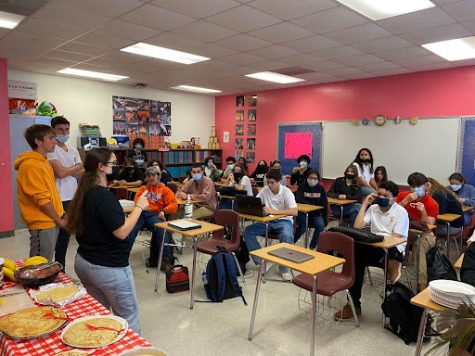 "Having the French Honor Society gives a place for the French speakers in the school, and not only the natives, to be in a place where they can interact with others and learn about the French culture so it really builds a community," Madame Rouit said.
In order to increase involvement and spread French culture outside of Mme. Rouit's classroom, the club has organized beach cleanups and class paintings where members can earn community service hours. The beautification project, as the club calls it, consists of the painting of classroom walls with vibrant colors to bring positive energy to the area and inspire the students to keep classrooms clean.
Having become a small hearth of France inside a school of nearly three thousand students, FHS has shone a spotlight on an entire culture. While the club does strive to educate students, its main goal is to bring people together through a shared love for France.