Enigma Catalán
Hang on for a minute...we're trying to find some more stories you might like.
Por largo tiempo los catalanes han buscado la independencia, desde la unión de Catalunya con España esta idea se ha ido formando. Pero, en estos últimos años el sentimiento independentista ha incrementado. Entre la población existe la idea que, por cuestiones históricas, culturales y lingüísticas, la independencia es la única solución y Catalunya tiene derecho a ser una nación soberana. No obstante, este cambio afectaría la constitución y economía de España.
Este sentimiento independentista surgió cuando Felipe V obtuvo el trono y al ver que Catalunya estaba en contra de él, el 11 de septiembre de 1714 abolió las instituciones de autogobierno de Catalunya y el castellano pasó a ser el idioma oficial. Sin embargo, el lenguaje catalán se continuó usando y con el paso del tiempo esto avivó un marcado sentimiento de conciencia nacional que desemboca en el Catalanismo político. Durante la dictadura de Franco, debido a su idiosincrasia, Catalunya fue castigada y el catalán prohibido. Por temas económicos que se han dado desde el establecimiento de la Constitución después de la muerte de Franco, Catalunya ha estado insatisfecho con la redistribución de los ingresos de impuestos ya que establece que colabora más de lo que recibe. Después de que el Estatuto de la reforma de Catalunya fue aprobado y luego modificado en perjuicio de los catalanes a ellos no les agrado en lo absoluto esta decisión. Motivo por el cual más de 1 millón de personas salieron a la calle a protestar, todo un punto de inflexión. Agregado a eso la corrupción, la desigualdad y la inestabilidad económica, provocó que entre los catalanes la idea de que la independencia es la mejor opción empieza a ganar fuerza. Todo esto convirtió que el independentismo pasara a ser una opción política real.
"El gobierno español y Catalunya deberian llegar a un acuerdo para solucionar este problema. Ambos deberian acordar en algo que sea beneficioso para ambas partes," senior Katrina Darby dijo.
Miles de Catalanes desafiaron a las autoridades españolas el Domingo pasado al votar por el referéndum de independencia. La mayor parte de la población voto por 'SI' lo cual a comprueba que la independencia podría convertirse en una realidad. Los catalanes tienen muchos motivos por querer solicitar esta independencia y estas razones han venido dando con el transcurso de los años.
"No se si sería bueno en el sentido economico o politico ya que podría ser posible que se este usando el sentimiento patriotico comoe un medio de escape de temas de corrupción politicos. También Catalunya se podría ver afectado ecoomicamente ya que no va a contar con el respaldo de un país tan grande como España," sophomore Braulio Gonzalez dijo.
Mi posición en este conflicto suguiere que el gobierno español sea más comprensivo con las peticiones de la población de catalán. Ya que hasta ahora la población solo ha buscado tener una soberanía y no hay un fuerte vínculo entre ambas culturas. Sin embargo, este proceso de independencia debería ser progresivo para que ambos lados del conflicto no sean perjudicados. Catalunya ha llevado varias propuestas de independencia al gobierno español, pero se han encontrado con una puerta cerrada. Catalunya tiene una diferente cultura y está claro que la mayoría de la sociedad no se siente completamente identificada con España. Ambos lados, tanto Catalunya como España, deberían llegar a un acuerdo que sea beneficioso, para evitar que existan problemas económicos o políticas.
About the Contributors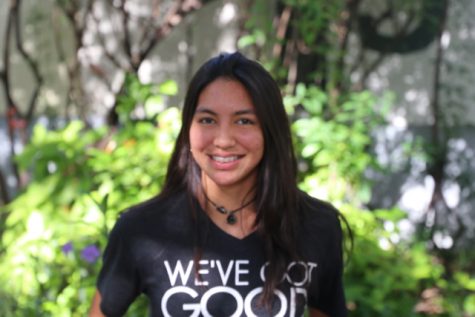 Paula Gonzalez, Staff Writer
Paula Gonzalez is a senior in the International Baccalaureate (IB) program at Coral Gables High School. Coming from Perú her sophomore year, she quickly...