CavsCloset Opens Shop at Gables for Earth Week
CavsCloset, Coral Gables Senior High's very own thrift store, finally opened its doors for the first time during Earth Week to showcase the idea of sustainable fashion through the sale of used clothes.
The first-ever thrift store at Gables, CavsCloset was created by sophomores Amalia Garrido, Laura Ridoux and Gabi McGrath-Moreira, who collected, sorted and donated clothes throughout the 2021-2022 school year.
The shop is meant to reduce the spread of fast fashion and replace it with a more environmentally-friendly way of shopping by purchasing used clothes at a much cheaper price, also known as 'thrifting'.
"I personally love thrift shopping. So, when I found out through Key Club that there was going to be a Gables thrift store for a cause, I wanted to volunteer to help as much as I could. Honestly, it was an amazing experience and I would 100% do it again," freshman Valentina Tomas-Dolan said.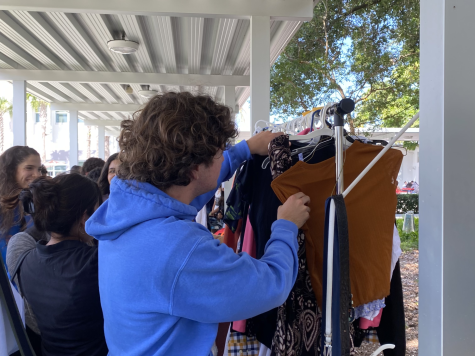 After planning, the three girls finally got the chance to launch their thrift store as part of Earth Month activities at Gables. CavsCloset was open Monday to Wednesday during both lunches near the 6000 building. The store sold clothing ranging from athletic wear to formal wear with a few pairs of shoes and some accessories.
"I think thrifting is always a very fun and sustainable way to shop, as people say one's trash is another treasure. Teens love thrifting nowadays because they want to bring back the trends from the 2000s which are super cute. Also, using second-hand clothes is great for the environment and a sustainable way to shop," sophomore Veronica Montalvo said.
The initiative started in October of last year when Garrido, Ridoux and McGrath put boxes for Cavaliers to donate their used clothes, shoes and accessories in Social Studies classrooms in the 9000 building.
Teachers such as Ms. Cosgrove offered extra credit to encourage donations, allowing the thrift shop to be well-supplied since its early development.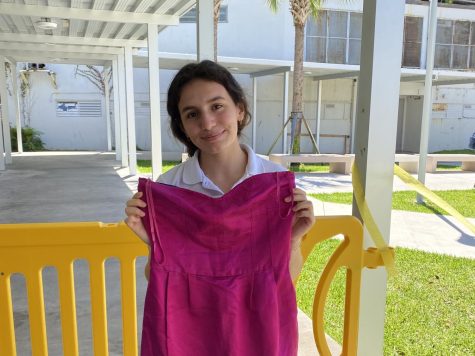 In January, the founders, along with student volunteers, helped sort out all donations into bins to store the clothes while they awaited the sale. In total, over 800 items of clothing were donated by Cavaliers and teachers.
All the proceeds made from the sales and remaining unsold clothes will go to support Lotus House and its mission to aid homeless women and children.
Providing them with an education and shelter, Lotus House aids homeless women, youth and children, giving them a chance to heal and find a place in the world. Moreover, Lotus House has a thrift store where excess clothing donations from CavsCloset will be given.
"CavsCloset was a very successful event. I thought it was an amazing idea for a great cause. Since thrift shopping is now a "trend", it was very smart to incorporate it to raise money for Lore's House," freshman Valentina Tomas-Dolan said.
CavsCloset will open again next year as the founders plan to make it a yearly event at Gables, hoping to pass it on when they finish high school.
To learn more about CavsCloset, click here and check out their Instagram page.