AOF Students Fired Up by Miami Heat Seminar and Season
The board members of Coral Gables Senior High's Academy of Finance program were able to represent the school in a Miami Heat business seminar, where they gained insight into the sports industry as well as management of inventory and finances. AOF students also received free tickets to the Miami Heat's home game against the Boston Celtics on Nov. 4, where they got to see them in action personally.
"The seminar was great! We learned that having connections and also knowing what skills you're able to provide and excel in is a great way to get into an industry, in addition to having prior experience and education. My experience at the Miami Heat game was amazing especially since it was the first game I have ever gone to," senior Jennifer Urbina said.
As the new season of the National Basketball Association kicks off, the Miami Heat have begun with a successful start, accumulating seven wins to three losses at the top of the Eastern Conference. Sports centers and fans alike are reporting that their performance is more positive when compared to last season's performance, where they finished at number six in the conference.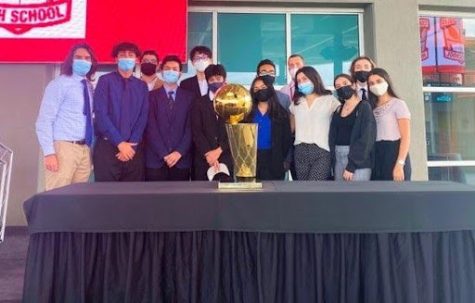 Last season, Miami was coming off a loss in the NBA Finals to the Los Angeles Lakers. After this playoff run, fans had high hopes for the season. However, these hopes were not met for many, as the Heat finished with a 56 win/loss percentage and were knocked out of the first round in the postseason by the Milwaukee Bucks 4-0.
This early success is, in part, due to their actions in the NBA preseason. Even though the team lost Kendrick Nunn and Goran Dragic, two of their main point guards, in the preseason, they also managed to make some trades as well.
"The ambiance was very exhilarating as I focused on each player trying to make a shot and every Heat fan was very spirited. It was even better since I was with my board members. In the end, the Miami Heat lost but it was an experience I will never forget," senior Jennifer Urbina said.
For example, they made a trade for former Raptors point guard Kyle Lowry, a six-time all-star and one-time NBA champion. He has become a role player in the Heat's offense, averaging about ten points and seven assists per game so far.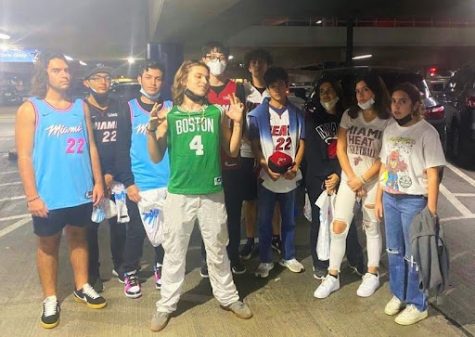 Miami Heat also traded for Markieff Morris and Caleb Martin, two more players who have served as role players for Miami's team-centered playstyle. These actions led to the Heat's five to one record in the preseason and set them up for their performance in the official season.
Performances from Jimmy Butler and Bam Adebayo have also been a big part of Miami's recent success, as Butler has been averaging 25 points with five assists and Adebayo has been averaging 18 points with about 12 rebounds.
These performances have not only propelled the Heat to the top of their conference, but they have also earned these players more acknowledgment. Jimmy Butler is in the top three for the Most Valuable Player award in the season so far. The efficiency of the Heat's offense in the past games has brought them where they currently are.
"Yeah, Miami is definitely a contender for the championship this year. They have been making some smart moves and I think players like Lowry are really improving the team and have done well to fit into our system. Overall, my hopes are high for the Heat," sophomore Raidel Monagas said.
As the 2021- 2022 NBA season returns, the Miami Heat has shown improvement from the previous season. Due to preseason action and current game success, predictions are already expecting the Heat to finish in a secure spot for this year's playoffs. Gables' AOF appreciated the opportunity to witness the season's excitement in person.