Flashback to the 50's with Mr. Coral Gables 2014
Karla Santoyo- Editor-in-Chief, Albany Muria- Editor, and Camilo Bacca, Orestes Gonzalez- Photographers
December 19, 2014
On Dec. 18, the auditorium was filled with students and alumni waiting to see the long anticipated show, Mr. Coral Gables. With more than 500 tickets sold for $10 pre-sale and $12 at the door, the annual pageant was a success.
To begin the show with an enthusiastic atmosphere, a video made by senior Javier Cobas was presented. The video included a compilation of all the contestants singing and dancing to the popular song Shake It Off by Taylor Swift. If you missed the video, click here to watch it.
"I thought the video at the beginning was extremely creative and hilarious. It began the show with a great start. My friends and I were laughing and having an awesome time. I can't wait till next year's," freshman Scarlett Rivas said.
The contestants took the stage and performed a dance to songs from the movie Grease, choreographed by Gablette Senior Officer Nina Llado and Gablette Captain Carolina Cabello. The Junior Varsity Gablettes followed with a performance to a cover of "Everything Little Thing She Does is Magic."
"Mr. Coral Gables showed me the playful and competitive nature of CGHS, and it was funny seeing the talents and all the reactions to it. I'm considering participating my senior year," sophomore Thomas Martinez said.
As the famed swimsuit competition approached, contestants were able to 'strut' on stage while facts about their height, weight and hobbies were read to the crowd. Each contestant was able to put a unique twist to their time in the spotlight by wearing props and hoping for a laugh from the audience. Immediately following the swimwear portion of the show, the top ten contestants were announced. The following participants qualified: Mr. Athletic Trainer (Ryan Maya), Mr. Baseball (Robert 'Coco' Montes), Mr. Debate (Marcos Balsera), Mr. Drama (Alejandro Arzola), Mr. Fine Arts (Francesco Messarina), Mr. Gablettes (Eldrick Clapp), Mr. Gables Players (Steven Teranciel), Mr. NHS (Alexander Duran), Mr. NSHS (Joshua Zambrano) and Mr. Soccer (Pedro Gimenez- Zapiola).
"It felt great to make it to the top 10. The culmination of all the practice and effort that had gone into the entire show made me really happy. I was proud I was able to perform and put the choreography that we had made to use," senior Marcos Balsera (Mr.Debate) said.
The talent portion followed and acts ranged from raps to theatrical performances, and even a 'throwback thursday.' Other outrageous acts attempted to woo the judges through good-humored entertainment and latin-inspired dancing.
"I think he [Mr. Gablettes] was super hilarious with his stand-up comedy and the answer he provided in the finals was truly humble. I completely agree with the judges' decision," junior Viangely Asencio said.
In order to decide the top five contestants, judges based their scores on talent creativity and crowd reaction during the swimsuit competition. The final five included Coco Montes (Mr. Baseball), Alejandro Arzola (Mr. Drama), Eldrick Clapp (Mr. Gablettes), Steven Teranziel (Mr. Gables Players) and Alex Duran (Mr. NHS). This was the first year in Gables history that a junior, Alejandro Arzola (Mr. Drama), made it into the top five. Each of the remaining contestants were prompted to answer the following question: What does it mean to be a CGHS Cavalier? Each participant gave their respective answers and the panel of judges began to calculate the scores. As the results were finalized, Mr. Congeniality was awarded to Steven Teranziel, Mr. Gables Players which was decided amongst the contestants themselves. Second runner-up was given to Coco Montes (Mr. Baseball) and first runner-up was announced to be Alex Duran (Mr. NHS). In the end, senior Eldrick Clapp (Mr. Gablettes) received the title of Mr. Coral Gables of 2014, making it the second year that Mr. Gablettes achieves victory.
"My hopes coming into this year's Mr. Coral Gables were high, mainly because of the support system I had around me. It made it much easier to be comfortable and perform knowing that I had so many people in my corner having my back," senior Eldrick Clapp said.
With talents and laughter galore, the 2014 Mr. Coral Gables competition ended as an overall success. If you were not able to attend make sure to stick around for next year's!
About the Contributor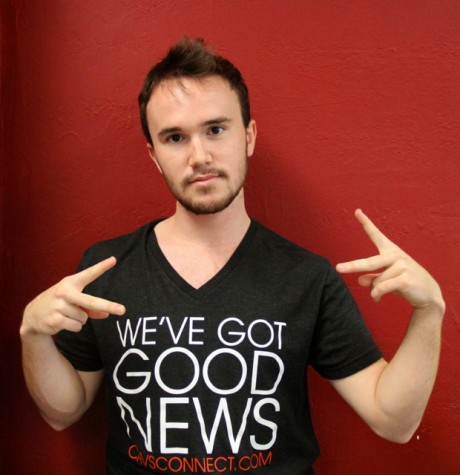 Orestes Gonzalez, Photography Editor
It's Orestes Gonzalez's second year in CavsConnect as Photography Editor. Orestes is creative with whatever comes out of his brilliant and mysterious mind,...