Heading Home
On January 11, 2014, alumni from different graduating classes came back to our campus to play a game of baseball. Former players of the team throughout began arriving as early as 11:00 a.m. to meet up with old team members, and prepared to face the current Gables team. With food and drinks being provided for free, courtesy of Coach Wisser, family and friends could support both teams and enjoy the game, which began at approximately at 12:00 p.m. As the game was commencing, the playful yet competitive atmosphere remained and helped bring the Cavalier spirit to the field.
"Coming back to Gables makes me feel like a kid again. My old teammates and I all share memories, and it just brings back things from high school. Students usually can't wait to get out of high school and we can't wait to go back! It's such a great honor to be able to play against my son, see how the tradition of Gables baseball has been kept alive, and show the younger generation how we did it all," Eli Marrero, Class of 1993, said.
This game was all about bringing back the old memories and at the same time creating new ones. The alumni were extremely eager to have the opportunity to play against current Gables' players and test out their skills.
"Playing in this game alongside my old teammates feels almost like we never left! It keeps us really competitive and brings back the camaraderie we all miss. It's definitely a challenge to see what we still have left in us," Eddie Hoff, Class of 1993, said.
Not only was the game a blast for the former alumni, but it was also greatly enjoyed by the current baseball players from Gables. It helped boost the competitive side and the confidence of the current players.
"Playing against my dad feels good; I get to be extra competitive and try to outmatch him. Games like these, against alumni, definitely make me want to come back and participate once I graduate," junior Eli Marrero Jr. said.
Spectators included family members of the alumni and current baseball players along with teachers and students, all of which who came to support and be a part of the marvelous event.
"As a former coach for the baseball team, I enjoy helping out with the baseball program and supporting the school. It's such a thrill seeing my old players and finding out what they're doing now. Most of them have families and kids, but they often remember all the things I've told them about being a team and sticking together. Coming back makes me feel very honored because my number has been retired, and I'm glad to know that I have something to contribute," former coach Dave Bisceglia said.
The final score 9-6, the current team takes the victory. A game full of amusing spectators, free food, and best of all, the returning of the alumni, couldn't have gone any better. The game was able to bring back many memories, and boost the confidence of the current team. Overall, the game was a grand success, and we will have to wait to see what happens at the next one.
About the Contributors
Albany Muria, Editor
Albany Muria is a senior in the IB Program at Coral Gables Senior High. She couldn't be any happier to be a Cavalier and a part of the CavsConnect staff...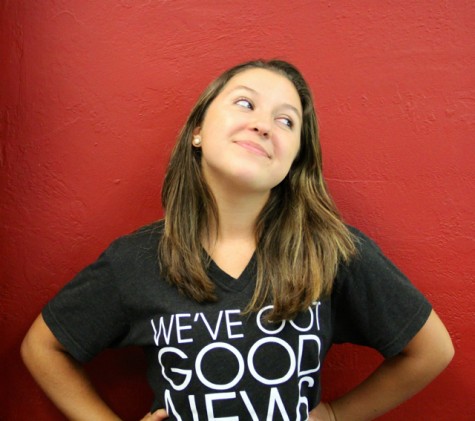 Sabrina Ochoa, Editor-in-Chief
An IB senior at Gables, Sabrina Ochoa (commonly known as "Sab," "Sabi," "Sabu," "Bri," "NaNa" and even "Fab Sab" ) is a proud Cavalier. Despite her minuscule...