Gables Partners with UM to Rebrand the Cavalier Image
Filled to the brim with academic overachievers, student-athletes and everything in between, Coral Gables Senior High School has a lot to offer inside its nine buildings throughout the school year.
However, while for a Cavalier this may be common knowledge, for middle schoolers searching for the perfect high school, this behind-the-scenes and personal experience may not be as evident, steering them away as they focus on the school's exterior rather than its student body.
When Sadia Raja, a member of Friends of Gables High, heard of this issue through the FOGH board, she knew it was time to make a change. Raja, mother of two and an active community member as well as a resident of Coral Gables, understood the importance of public education in her city, leading her to step up and find a way to shine a bright light on Gables.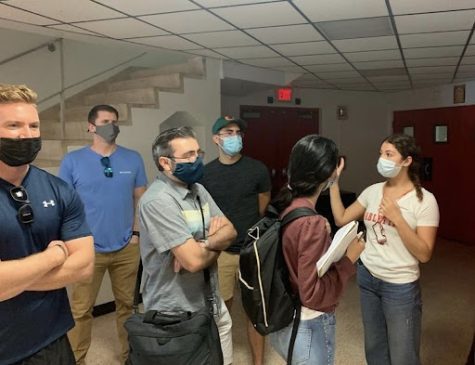 After brainstorming with the FOGH board, Raja reached out to multiple marketing firms to see if they could help out for free or at a reduced rate. When companies returned with quotes above $20,000 — an amount outside of an agreeable budget for the school — Raja knew she needed to come up with a new approach to the problem.
"Through Friends of Gables High, we were talking about what we could do as a PR campaign for Gables High because all other schools like Gulliver and MAST or Ransom [Everglades] have a good reputation by word of mouth. They also have marketing departments which Gables does not, being a large public institution," Sadia Raja said.
In her search for a solution, Raja finally decided to partner with the University of Miami to develop new marketing strategies for Gables. This was a part of a larger campaign led by the school with the goal of rebranding the home of the Cavaliers to make it more appealing for those looking to apply.
"
We were impressed and inspired by how many amazing opportunities there are for CGHS students. Almost 100 diverse electives, 41 clubs, loads of extracurricular, and multiple specialized academic programs! That's way more than I ever had in high school, and we all agreed that this was a unique selling point for Gables High,"
— UM graduate student Aaron Sperber
Raja is considered the liaison of the Gables partnership with the University of Miami as she is the one who made that direct connection between the two schools. The roots of this partnership stem from a close friend of Raja's, the marketing professor at UM, Uzma Khan, Doctor of Philosophy.
"I was selling her [Dr. Khan] my dilemma with how to help Gables High. She was like you know what, I'll do it for you. I'll have my students for the MBA programs […] do projects for you so you guys can choose a campaign you would like to implement," Sadia Raja said.
Once the plan was finalized, Dr. Khan's graduate students came and toured the school to get an idea of what Gables has to offer. After learning of the academic programs as well as sports, clubs and electives offered, the visit gave them the inside information they needed to make their marketing plan custom to Gables.
The assignment given by Dr. Khan to her students was to create a marketing plan to rebrand Gables as well as to attract future Cavaliers and explain how it was going to be implemented through a PowerPoint presentation. Raja and other representatives from Gables then went to UM to watch all the presentations.
"For me, it was fascinating to see how they incorporated Quick Response codes, videos, TikTok and scavenger hunts. I think that this is what is missing for Coral Gables High School as everyone is very active on those social media platforms at a school level," Sadia Raja said.
Out of 11 selected presentations, one group of four students were chosen to explain their plan involving social media to a group of students selected at Gables on Oct. 14. The meeting occurred with the goal of putting this idea into effect. The students were allowed to adjust anything to make this marketing plan a reality with the ultimate goal of attracting future Cavaliers.
In the long run, Raja hopes that the partnership continues to grow and thrive as college students majoring in business aid local high schools and pass on their ideas to younger generations. Spotlighting Gables as the best public high school option, this partnership has proven that, while the project is focusing on rebranding the exterior, the true Cavalier spirit remains within students.