Black History Month Essay Winner
All throughout February, the United States celebrates Black History Month. During the four weeks, African-American's rich history on their migration, the struggles faced, and characters of strength that have made an impact on social issues are recognized and celebrated. In schools, history teachers devote time to teach their students about these individuals and how their passions for equality were hard fought for throughout the years. In some schools, including Coral Gables Senior High, during the month-long celebration, performance shows are hosted for students of the school. The audience is shown the importance of celebrating Black History Month through different art methods, such as dancing, singing and live poetry showings,.
In addition to the show, an essay contest was taking place for all students of Coral Gables Senior High. Ms. Cosgrove, AP Human Geography and World History teacher, informed her students of the essay and presented those interested with a prompt. From those that participated in the district-wide contest, one of our very own Cavaliers won first place.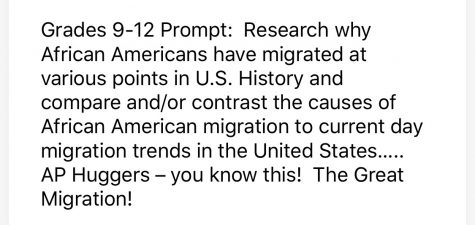 "Devon is a great student. She is active in and outside the classroom, a model student," AP Human Geography and World History teacher Ms. Cosgrove said.
Sophomore Devon Rall, a candidate in the International Baccalaureate program, was awarded first place for her essay entry. Rall shares a huge passion for writing and found the prompt to be interesting, deciding to participate. Her love of writing is what lead her to join Catharsis, the school's literary magazine. Her selflessness and desire to help others is why she is a part of community service clubs like Interact and her interest in books and reading is why she joined the English Honor Society.
"I participated in the Black History Month Essay contest because I am a strong writer and writing is frankly one of my passions," sophomore Devon Rall said.
The first place prize was $200. However, Rall's participation was not about the money, but rather to immerse herself in the research needed to complete the essay. Her curious mind is what led her to intensively research and the migration of African-Americans in United States History and then compare it to current day migration in the United States as well.
Rall is a highly involved student whose passion led her down a road of discovery. Not only did this contest allow her to gain further knowledge about African-American history, but it also allowed her to express herself through what she knows best, writing.