Cavaliers Share Their Stories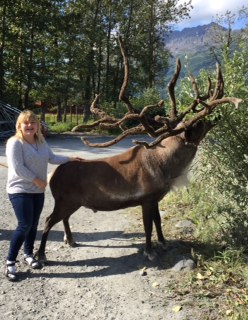 Both new to the 305, freshmen Meagan Cohen and Xinyu Gao recently moved from Alaska and China.  Bearing memories of their culture, Cohen and Gao expect to learn and grow as students in Coral Gables CavsConnect interviewed the students to gain more insight on their experience.
Meagan Cohen: from Alaska to the Sunshine State
Shifted all the way from a northern climate to the warm Florida breeze, freshman Meagan Cohen moved to Miami on Dec. 19, 2015. Moving all the to the Sunshine State has been an array of emotions for Cohen. Having to transport her belongings across the Panama Canal and driving her car thousand of miles has been an insane process. Surprisingly, she is still unpacking all her woolly clothing which is big contrast to Miami's 'swinter' filled with t-shirts and shorts. As she gets used to the sunny weather, Cohen often reminisces on Alaska's wildlife.  The scenery,  the constantly perfect weather and insanely kind people is what she misses the most. The mountain range in the midst of Anchorage, Alaska behind all the skyscrapers was breathtaking. It is definitely not comparable to Florida's urban landscape. One her vivid memories is moose trying to come into her high school and enjoying various hiking trips where she could smooch off berries of the trail. The pure glacier water with delectable taste is what she longs for the most; she still hasn't adjusted to filtered water from the Okeechobee River. In addition to the climate, the education system has also been an impacting factor to adapt to. Florida's standardized testing and use of technology in school is different to Alaska's physical form of learning that prefers to assign books to each student. Despite the small adjustments, Cohen has become appreciative of the variety of food at Gables. The witty and gregarious personalities at Gables have facilitated the transition and made adapting to Florida a lot easier. Expecting to continue her academic excellence, Cohen hopes to work tirelessly and dedicate herself to her studies. She has taken off a great start as a freshman placed in Pre-IB Acting II.  It is also in her plans to make more friends that will emake her high school experience in Florida one to remember.
Xinyu Gao: from China to Miami
All the way from East Asia to the southeastern region of the United States, Xinyu Gao came from China two years ago. Seeking a better lifestyle, Gao enjoys the education America has to offer. However, she has seen an alarming difference in regards to testing. The biggest difference in the school system is that in China we only take one big test at the end of the semester and the grade obtained in the test would be your evaluation for that semester.  That is a big change in comparison to Florida's standardized testing that occurs once a year and is balanced with a student's grade in a class.  This transition has been facilitated by the teachers she has encountered that have alleviated the transition.  Despite the educational differences, Gao  hopes to keep producing the same level of success and thrive in school. Although she has yet to discover so much about Gables, Gao is already familiar with Gables' friendly and welcoming environment.
With three years of bliss ahead of them, Gao and Cohen hope to continue living the Cavalier experience.