Cavaliers' Road to Success
As graduation approaches and scholarship acceptances are released, seniors are beginning to find out what the next chapter of their lives has to offer. The following students have attained different scholarships that have matched them to: Pomona College, Columbia University and Haverford College, respectively.
Isabella Izquierdo:
Isabella Izquierdo, Cavaleon's Editor-in-Chief, was matched with Pomona College in California through the Posse Foundation. The Posse Foundation is a nonprofit organization that recruits students from public high schools to form diverse "posses"of 10 to 12 individuals. After many rounds of meetings and vis-à-vis interviews, her goal was accomplished. Pursuing personal and academic excellence, she is ready to face the California breeze.
Maria C. Estrada:
Senior Maria Estrada, Student Council Treasurer, was recently matched with Columbia University through QuestBridge. QuestBridge is a nonprofit organization that matches low-income students with leading EEUU universities. Initially, she had been asked to choose her top options of which she would like to attend. Filled with hope and aspirations, Maria chose Columbia University as her top choice thinking it would be a long shot, but her dreams came true. This scholarship gave not only our very own Cavalier, but many students around the world the opportunity to obtain a college education without having to worry about how they are going to pay for it.
Alaix Parra:
Alaix Parra was matched to Haverford College in Pennsylvania through QuestBridge. Both Maria and Alaix have been matched to their first choice and are thrilled to escape the Miami weather. Luckily, Alaix has a brother that also won the same scholarship and he'll be accompanied by family. Haverford is just what he dreamed of, and he cannot wait to attend next autumn.
Through hard work and dedication, these fellow Cavaliers were able to win these scholarships. Thrilled to begin the next chapter of their lives in remote areas of the United States, these three individuals will forever be Cavaliers in their hearts.
About the Contributor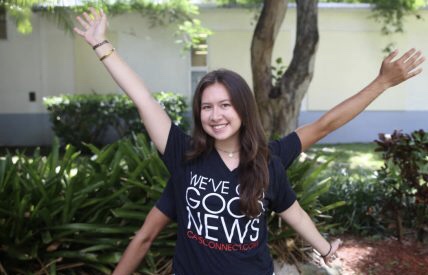 Maria F. Estrada, Editor-in-Chief
Maria Estrada is a senior in the International Baccalaureate program at Coral Gables Senior High who loves a good debate and cup of coffee. As her role...