AP Testing Updates: What You Need to Know
After much anticipation, Advanced Placement students at Coral Gables Senior High have finally been given information regarding the 2021 May testing schedule. According to Gables' AP coordinator, Mrs. Herrera, AP tests will be taken both in-person and digitally. Depending on the courses a student is currently enrolled in, they may have to report to school to take their test.
It has not yet been announced whether digital exams are being taken at home or administered on campus for physical students. Mrs. Herrera has released a document stating the date, time, exam modality and type of day — even or odd — on which each test is scheduled, on the "AP Students" Microsoft Teams.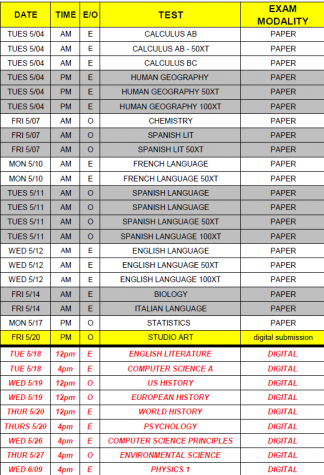 Although the fairness of testing during COVID-19 has been a long-standing debate, it is clear that Gables has tried to find a middle ground by administering some tests on paper, and the remainder digitally. This does raise concerns over students who may have internet problems at home, and whether this decision establishes an even playing field for all students. However, if digital exams are taken at school, this could diminish any unease felt by students.
It has also been revealed by CollegeBoard that any digital exams that are taken — whether at home or in school — will not allow students to return to previous questions on the multiple choice sections. This has fueled the controversy over the "fairness" of AP testing.
"I think that it is unfair that we can not go back to our answers because we have been trained to answer the ones we know in a short period of time. Most of us will have to learn to answer questions completely differently than we have before," junior Abigail Colodner said.
Regardless of this discussion, teachers will have to adjust their teaching methods according to the way their students will be testing. If teachers' respective exams are online, it is possible they will start teaching online practice more often than handwritten. If it is physical for their classes, they may adapt to assigning more handwritten projects in preparation for the exam modality. Students will also have to start practicing new testing skills in order to perform well on a new structure they have not seen before.
"I like that they chose differently for each test. I think they went one by one and chose what option would be best for that test," sophomore Beatriz Cruz said.
All things considered, it is crucial that this information is made readily available because it allows teachers the opportunity to start preparing their students accordingly, and gives Cavaliers a chance to know what their tests will be like.