Transfer Talk: A Review of the Moves All Across the World of Soccer
The off-season of professional soccer is an extensive waiting game. The "will he stay or will he go?" question is commonly asked when it comes to world-class soccer players in the European soccer transfer market. The acquisition of such players can lift the spirits and hopes of a team and its supporters. However, the departure of a highly talented player can lead to frustration, distrust and bad-blood between the fans, the team and the players. Let us dive into what happened this summer, shall we?
One of the biggest winners this summer was Real Madrid, which improved tremendously after a disappointing season in the Spanish soccer league (La Liga Santander). Los Blancos responded by buying three major players during the summer transfer market. First, they bought Ferland Mendy—a rising star from Lyon, France—for 50 million euros.
The fullback had proven his worth in Ligue 1, scoring three goals and three assists across all competitions in the 2018-2019 season. Real Madrid invested in Mendy after rumors of Brazilian left-back Marcelo's potential departure.
Madrid then bought Luka Jović from the German League (Bundesliga). Finally, world-class attacker Eden Hazard was acquired from Chelsea for 100 million euros. The Belgian's departure had been rumored for months during his tenure with Chelsea. Hazard scored 16 goals in the Premier League.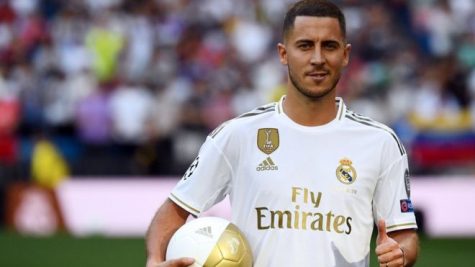 With these acquisitions, Real Madrid finally got the star power they needed to help them win the league.
Elsewhere in the league, French striker and World Cup winner Antoine Greizmann transferred from Atletico Madrid to the Catalonian giant – Barcelona. Greizmann was acquired for 120 million euros. The move had been heavily anticipated and was received graciously by fans.
"I think it's a big move for Greizmann and a good investment for Barça," freshman Nathaniel Leiva said.
Barcelona also bought up-and-coming midfielder Frenkie de Jong after his exceptional performance with Ajax Amsterdam in the Champions League.
Before the transfer market began, Atletico Madrid acquired rising 19 year-old Joao Felix from Benfica, a team based in Portugal. His seemingly overnight rise to fame caught the attention of Atletico Madrid's leadership. He would have to prove himself to be as worthy of his number seven jersey as Antoine Greizmann was.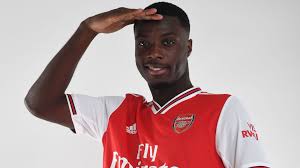 The Tottenham Spurs made their first transfer after remaining stagnant in the market for years. Tottenham Hotspur bought central defensive midfielder Tanguy Ndombele from Lyon for 63 million euros. In competition, Arsenal bought: Nicolas Pepe from Lille Olympique Sporting Club, Dani Ceballos from Real Madrid and David Luiz from Arsenal's London Rival, Chelsea.
The Premier League winner, Manchester City, invested more money into players by buying Juventus's right back Joao Cancelo. In recovery, Juventus made an investment in Dutch defender Matthjis De Ligt.
"With the acquisition of De Ligt, I feel that Juventus is set to compete at the highest level. I would give them the edge over the other teams," senior Kamir Larin remarked.
Manchester City's next door neighbor, Manchester United, signed Aaron Wan-Bissaka and Harry Maguire from other Premier League teams – Crystal Palace and Leicester City respectively.
The next time the transfer window arrives, it will be during the winter and several more exciting transfers will inevitably transpire. Soccer fans all over the world can barely contain their excitement as these soccer clubs maneuver in the transfer market to assemble the best teams possible for the upcoming seasons in the European Leagues. Fans are amped, yet the question still remains, will he stay or will he go?