Summer X Games 2018: Extreme Athletes, Extreme Sports
The Summer X Games, although not an extremely well-known sporting event, is one that requires unparalleled athletic ability and talent. Hosted, produced, and broadcast by ESPN, the Summer X Games are an extreme sports event that has been rapidly growing in popularity since its inaugural year in 1995.
At the X Games, participants compete by performing a wide variety of skills, stunts, and tricks with skateboards, bicycles, and motorcycles. Similar to most other major athletic competitions, X Games athletes display their talents in hopes of winning bronze, silver, and gold medals, respectively, as well as prize money.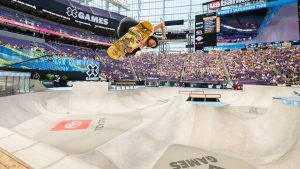 "I have actually watched some of the X Games competitions before and they're pretty entertaining. These competitions really put the athleticism of these athletes to the test," freshman Anthony Russo said.
This summer, the X Games were held in Minneapolis for the fourth straight year from July 19 through July 22. Although the Summer Olympics are still a pair of years away, the X Games provided an informing preview about which athletes might be headed to the 2020 Summer Olympics in Tokyo.
For example, on the All-American men's skateboard park podium alone there was not a single athlete above the age of 20. Gold medalist Alex Sorgente and silver medalist Tristan Rennie were both 20, and bronze medalist Tom Schaar was only 18. Although these were only the top performers of the skateboarding competitions, there is a broad and exciting generation of athletes that could potentially take part in the Olympics when skateboarding makes its debut in 2020.
"The great just continues to get greater. Every four years, the Olympics continue to introduce diversity in terms of their inclusion of athletes and the introduction of new sports and it's exciting to see," sophomore Branden Vital said.
The same could be said about the women's skateboarding pool that attended the X Games this year as well, as women's skateboarding has also been receiving increasing attention since its debut to the X Games in 2002. Jordyn Barratt, a 19-year-old skater from Hawaii earned herself a silver medal this year and aims for an Olympics appearance come 2020. Barratt, along with many other skaters around the country, passionately anticipates the fulfillment of her dreams as she matures and grows as professional athletes.
It is needless to say that the Summer X Games exhibit a tremendous amount of athleticism out of their young competitors, and as all these extreme athletes train for next year's X Games, a ticket to the Olympics potentially awaits them. Despite the Summer X Games coming to an end, be sure to stay tuned for the Winter X Games that will take place in late January!