M-V-P: Giancarlo Stanton's Historic Campaign
With a swagger incomparable to any player, Giancarlo Stanton purposefully approaches the batter's box. Glaring into the opposing pitcher's eyes, he composes himself in his famous batting stance. Apprehensive and anxious fans take their seats, hopeful to witness a mountainous home run. As the pitch is delivered, Stanton unloads his fluid, powerful swing, and with one thunderous crack of the bat, the baseball is sent whirling into oblivion. The crowd grows rowdy as Stanton rounds the bases, pointing to the sky, celebrating with his teammates and saluting the fans attending Marlins Park.
Over the last 8 seasons, baseball fans around the world, especially in Miami, have witnessed one of the most remarkable young talents in the history of baseball. Commencing his career with the formerly mentioned Florida Marlins, Giancarlo Stanton captivated Major League Baseball with his incredible potential and once-in-a-generation type of power. Only 20 years old at the time, he established himself as a powerful threat to opposing pitchers and as one of the elite home run hitters in the sport, slugging 22 homers in only 100 games. The rest is history. Since then, his professional baseball career has been embellished with countless awards and honors, including 4 All-Star appearances, 2 Silver Slugger Awards and a Home Run Derby Champion. Unfortunately, his career has been plagued on many occasions with injuries that have significantly impacted his performance and games played throughout his seasons.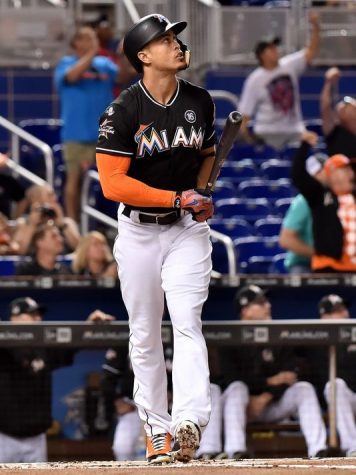 Following an injured 2016 season, Stanton made it critical to himself to stay as healthy as possible come the 2017 season. Since his career began, there has always been speculation and controversy about the potential impact Giancarlo Stanton could have during the entirety of a healthy season. The closest he had ever come to achieving that goal was the 2014 season, in which he hit for a solid .288 batting average to accompany his 37 home runs and 105 RBI (runs batted in). However, his MVP-caliber season was forced to a tragic end when he was struck in the face by a fastball against Mike Fiers of the Milwaukee Brewers, causing him to miss the final two weeks of the season and forfeit the MVP honor to Clayton Kershaw of the Los Angeles Dodgers. In the 2017 season, Stanton not only played in 159 of 162 games, but also surpassed his former MVP campaign in 2014 in nearly every offensive and defensive category.
The first half of the season was a rather typical one for Stanton; he had a decent batting average in the .270 range, along with 26 home runs and 58 RBI. The All-Star Game, hosted in Miami this year, gave Stanton extra support in the balloting, presenting him with a spot in the starting lineup for the National League All-Stars and in the Home Run Derby. However, Stanton took his talents to unthinkable heights after the All-Star Break, and his performance really began to blossom. Ironically enough, after losing in the first round of the Home Run Derby to Gary Sanchez of the New York Yankees, he belted home runs at an unstoppable rate in the second half of the season. Earning the nickname "Stanton Smash," he launched 33 baseballs soaring over the fences between July and October, 18 of which came in the month of August. In the process of doing so, he broke MLB records, as well as some of his own. The storybook 2017 season for Stanton saw him setting the new Marlins single-season home run record at 59, incredibly dethroning the previous record of 42 belonging to Hall of Fame nominee Gary Sheffield. Not to mention, he broke his own personal record by 16 home runs. Stanton also paced all of Major League Baseball with a ridiculous total of 132 RBI. In the "season of the home run," Giancarlo Stanton had the biggest spotlight shining down on him as the postseason was nearing its beginning.
"I'm really glad Stanton won MVP. He's a great player and an even greater person. As a kid, he gave me a high five and he pushed me down a slide; I've been a fan ever since," sophomore Emily Kay said.
Not to be underscored by his mammoth home runs and offensive production, Stanton also reached career highs in runs scored, slugging percentage and on-base plus slugging percentage. Being a Top 3 Gold Glove Finalist for his defensive contributions to the game, Stanton's fantastic season was one of completeness. Due to his many efforts and endless dedication, Stanton was honored with his first National League MVP award on Nov. 16, becoming the first Marlins player to ever win the prestigious award as well as only the seventh player in MLB history to earn it while playing on a losing team. Make sure to click here to view Stanton's interview following his accepting of the MVP award.
"Despite the Marlins not making the playoffs this year, watching Stanton all year long gave hope to the city of Miami as they witnessed history being made," sophomore Branden Vital said.
The 2017 MLB season, while having many things to look back upon positively, featured the true potential that Giancarlo Stanton possesses when healthy. Now a reigning MVP, he serves as the sport's best example of "must-watch baseball" and looks to build upon his success in the upcoming baseball season.