Grading the NBA's 2017 Offseason Moves
Over the years, the Golden State Warriors have demonstrated mastery in drafting young prospects, taking three college standouts over a span of four years and developing them into All-Stars and Olympians. With the addition of superstar forward Kevin Durant in the summer of 2016, the Warriors set off a league-wide alarm, causing many teams to rush to build a star-studded team in order to stand a chance against the Northern California superpower. Some teams, like the Minnesota Timberwolves, have followed the Warriors' footsteps, building a young core acquired by drafting and trading for young players with potential. Others, like the Boston Celtics, opted to trade up insignificant roster fillers in a package deal for one much better player, repeating the process over years.
Unfortunately, most of those teams haven't reached noteworthy success, either due to incorrect decisions or because it may just be too early to tell. This off-season has been one of the most eventful in the "superteam" era with several star players abandoning their teams for better chances at a championship. Although "ring chasers" are shamed in the press and social media, the players realize that it may be their only choice if they wish to end their careers with a ring on their finger. Here, we analyze 5 of the most notable moves made this off-season and how the players involved will affect their team, for better or worse, in the upcoming years.
June 22nd
Forward Jimmy Butler traded to Minnesota Timberwolves.
Chicago Bulls receive guards Kris Dunn and Zach Lavine, and the Timberwolves' 2017 first-round draft pick (7th pick, acquired center Lauri Markkanen).
Wolves: A
Bulls: C+
Jimmy Butler is among the best two-way players to play on an NBA court, along with Kawhi Leonard and Chris Paul. He is a top 10 player in the league, playing alongside Karl-Anthony Towns, one of the two best centers, and a budding star in small forward Andrew Wiggins. The loss of Dunn and Lavine hurts their bench's depth, but Butler's ability to masterfully defend guards and forwards alike allows Minnesota coach Tom Thibodeau to plug him in at any position, should fatigue or injury bench another player.
Kris Dunn posted one of the lowest true shooting percentages among players who attempted at least 300 shots, leaving plenty of room for improvement in the offseason. Zach Lavine's vertical helped him become a back-to-back NBA Slam Dunk Contest champion (2015, 2016), and one of the most athletic players in the league. But he, like Dunn, isn't showing prowess in the shooting department, specifically beyond the three-point line. Markkanen is a versatile seven-footer with quick feet and above average perimeter shooting, but most importantly, a high ceiling. With the Bulls lacking depth at the center position, he should be able to prove himself when playing behind starter Robin Lopez.
June 28th
Guard Chris Paul traded to Houston Rockets.
Los Angeles Clippers receive guards Patrick Beverley and Lou Williams forwards Sam Dekker and Montrezl Harrell, and a 2018 first-round draft pick.
Rockets: A-
Clippers: B
Chris Paul, 32, will soon begin to exit his prime, but until then, the Rockets are hoping to make a push towards a championship by putting two of the league's greatest guards together. Last season, James Harden, already an excellent outside shooter, led the league in assists (11.2 per game) and produced the second-most triple doubles in the league at 22, a remarkable performance dwarfed by Russell Westbrook's record-setting 42. Chris Paul has averaged almost 10 assists per game throughout his career and has demonstrated his adept play-making ability time and time again. Chris Paul's basketball IQ and court vision should assist him in finding Harden open for several open shots throughout the season.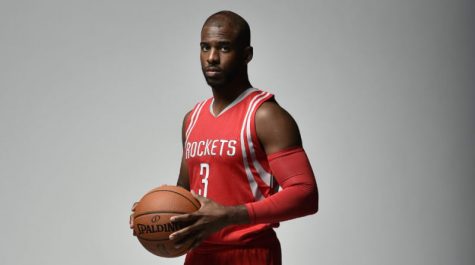 The Clippers still maintain their strong frontcourt with Blake Griffin and Deandre Jordan on the blocks, but with the addition of Lou Williams, a consistent shooter from every spot on the court, Patrick Beverley, one of the toughest perimeter defenders, Sam Dekker and Montrezl Harrell, undersized power forwards with reliable shots from close range, the Clippers have a strong foundation to build on for the next few years. Hopefully, they can put together a contending team through the draft or send players off in package deals, but for now, they'll likely remain in the lower half of the Western Conference playoff teams.
July 1st
Forward Paul George traded to Oklahoma City Thunder.
Indiana Pacers receive guard Victor Oladipo and forward Domantas Sabonis.
Thunder: A
Pacers: D+
Paul George, raised in southern California, has expressed his wishes to sign with the Los Angeles Lakers in the 2018 offseason on several occasions. In addition, there were many suitors to pick up the final year of his contract, including the Cleveland Cavaliers, Boston Celtics, and Houston Rockets. However, George shocked the NBA when he was traded to Oklahoma City Thunder for rubbish. The Thunder gave up Oladipo's $84M contract and a raw, unproven prospect to obtain a top-10 player in Paul George, well-rounded in all aspects of the game. Paul George's move to the West, along with Jimmy Butler's, have severely changed the structure of the NBA, with the Western Conference housing 22 of the top 30 players in the league. In the last half decade, several players have abandoned the Eastern Conference to avoid being steamrolled by LeBron James's Cavaliers on their virtually uncontested trip to the Finals. It's unknown how well George will pair with Westbrook's all-around yet reckless game, but they should be able to at least secure the fourth seed in the Western Conference.
"The West is definitely going to be fiercer, especially with the rivalry between the Golden State Warriors and OKC Thunder, now that they acquired Paul George who basically replaces Kevin Durant. The East is going to be much easier, and many players are going to gain new leadership roles now that the stars left their teams, and we're going to see plenty of new All-Stars in the East," senior Luis Lopez said.
The Pacers were bound to lose George as his contract expired next season, so they scrapped to get anything of value out of this trade. Unfortunately, Oladipo's contract will hurt their funds to pick up players next summer, and Sabonis hasn't shown any signs of an imminent breakout season. This turned out to be an ineffective trade for Indiana and should serve as a guide to not panic when a team's star player threatens to leave the team.
July 14th
Forward Gordon Hayward signed by Boston Celtics.
Celtics: A-
The Boston Celtics' addition of all-around small forward Gordon Hayward has provided them a strong core to face the Cavaliers in the Eastern Conference Finals. Their big three of Hayward, big man Al Horford and the recent addition of Kyrie Irving should intimidate Cleveland, as they should face a team with great depth in Boston. Gordon Hayward has increased his points-per-game average every year since he was drafted in 2010, scoring 21.9 points last season. His percentages of field goals and three-pointers made are both in the top 10 among small forwards, and his assists place him in the top 5. His skill set isn't quite deserving of a hefty contract, averaging $32 million a year, considering other stars small forwards make much less (Paul George, Jimmy Butler, and San Antonio's Kawhi Leonard all earn an average annual salary of about $18 million), but the Celtics can expect him to continue improving as he begins to enter his prime at only 27 years old.
August 26th
Guard Kyrie Irving traded to Boston Celtics
Cleveland Cavaliers receive guard Isaiah Thomas, forward Jae Crowder, center Ante Zizic, the Brooklyn Nets' 2018 first-round pick, and the Miami Heat's 2020 second-round pick.
Celtics: A
Cavaliers: A+
The Celtics will become a great obstacle for the Cavs to overcome next season, with a chance at dethroning them and becoming the kings of the Eastern Conference. Not only did their acquisition of Gordon Hayward provide LeBron James a worthy foe at his position, but the Celtics also received star point guard Kyrie Irving, an All-Star and Olympic gold medalist capable of lighting up a team for 40 points on any given night. He's 6 inches taller than Isaiah Thomas and possesses a broader skill set, with better defense, driving to the rim and ball handling. The loss of Jae Crowder doesn't affect the Celtics severely, as Jaylen Brown and Jayson Tatum, third picks in the 2016 and 2017 draft, respectively, both have great potential to become stars later in their careers.
"I think Kyrie Irving was bound to leave Cleveland, because if you listen to all the interviews, all the press conferences, everyone says 'with LeBron', and Kyrie is just trying to make a name for himself, he doesn't want to be compared to LeBron all the time," senior Alyssa Lamadriz said.
If the Cavaliers fail to succeed in the Finals for the third time in four years, LeBron's departure would be very likely as he has already fulfilled his promise of bringing a championship to his hometown of Cleveland and, in past interviewers, has mentioned playing for the Lakers later in his career. Until then, the Cavaliers' front office is doing what they can to prepare for LeBron's exit while remaining a contender for the championship. The two picks from Boston have great value for the team, especially the Nets' 2018 pick, considering they were the worst team in the league last year, and recently lost their best player, center Brook Lopez, to the Lakers. With the arrival of Isaiah Thomas comes concern over his hip durability due to his failed physical on August 25th, but he assures the press that he will play at the same level as last year, if not better. Forward Jae Crowder is a strong defender, capable of stopping shooting guards and forwards on any occasion, and he brings needed depth to the small forward position in Cleveland. If the Cavaliers fail to secure a championship once more, they'll at least be well-prepared for the future.