Athlete of the Week: Shakur Cooper & Gee Stanley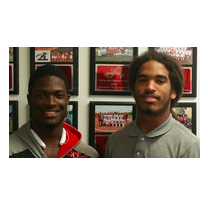 Shakur "Pooh Bear" Cooper and Gee Stanley both helped lead the Cavalier Nation into a storming victory against Miami High during the homecoming game. Cooper had a total of eight tackles – five for loss and three sacks, while Stanley also had eight tackles – two for loss, one sack, an interception and a safety to top it all off.
"Shakur has been battling some injuries this year, but this is the first game he has been his old self. Gee is learning the small details behind our defense and every game proving himself a phenomenal force. My expectations do not vary; they are consistent throughout the year, especially from the seniors. I expect their, along with the teammates, effort to be off the charts," Coach Pollard said.
Stanley has been playing for over 10 years, starting when he was about 8 years old. Since he was young, he would always play on the streets with his friends. Then one day, he decided to sign up with a team and has played ever since. Playing as a senior, Stanley is going to make sure to leave his mark as it is his last year at Gables. Stanley has a lot of offers to play in college, from schools like South Alabama, Acorn State and Temple University, that would allow him to continue playing the sport he loves.
Cooper has been playing football for over 13 years, starting when he was about 4 years old. Also a senior, Cooper is getting offers from colleges such as Jacksonville State University, Florida Atlantic University, University of West Florida and many more. This year, Cooper plans on playing baseball and track as his last two sports for Gables. You can read more about his life and love for football here in his Q & A article. 
"It takes hard work. Just keep pushing and stay focused. Don't forget the reason why you wanted to be successful in the first place," Cooper said.
Make sure to catch both of these players in their next big game against Columbus on Friday, Oct. 30.