Sweets Delight: L'Artisane Creative Bakery & Bistro
Our Rating: B
Location: 2526 Ponce de Leon Blvd, Coral Gables, Fla. 33134
Found right at the heart of Coral Gables, L'Artisane Creative Bakery & Bistro is a french-inspired artisan vegan bakeshop.This dual-faceted restaurant is perfectly suited for grabbing a quick and sweet dessert or sitting down and eating a croissant for lunchtime. Alternatively, the bakery not only sells baked goods but also has a menu of french-styled delicacies, giving a whole new perspective on the shop itself.
The bakery's main attraction is its wall of flowers with multiple plants and vines scattered across the bakery, giving a homey feel. Not to mention, the storefront looks completely modernized with countertops showing the full array of desserts in a rectangle-shaped glass. Each table has a pink flower in a vase and the staff members are warm and welcoming.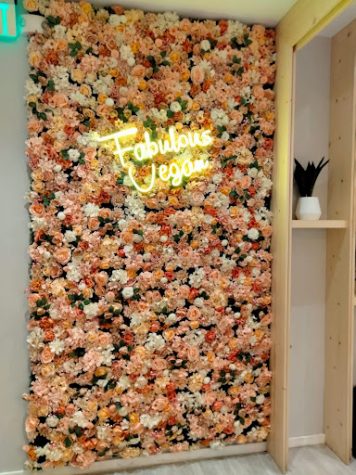 The french-styled bistro highlights a vast variety of dessert options including cookies, macarons and tarts. Their croissants include a multitude of choices, croissants both with and without filling. The weekend special Tiramisu Waffles are perfect for a good breakfast while their flatbreads, empanadas, salads, soups and quiche are better suited for the afternoon.
What makes L'Artisane Creative Bakery special from others is their "All-Day Brunch" series which features the regular croissant transformed into full meals such as the "Impossible Burger Croissant" containing a burger patty, lettuce, tomato, onions, vegan cheese and Sriracha aioli or the "Wild Mushrooms Croissant" which has black truffles cream, vegan parmesan cheese, mushrooms crumbled and Sauteéd wild mushrooms.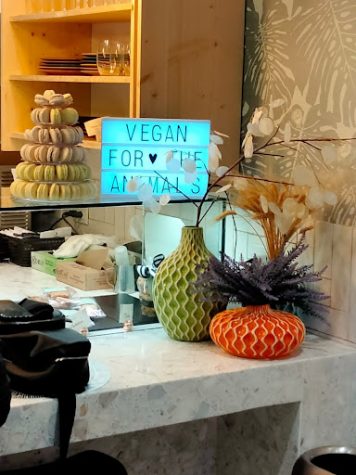 "I really liked ordering the Impossible Burger Croissant because it's really a weird combination that you would not expect ever to happen with an actual burger in it with croissant buns," freshman Christopher Arriaza said.
However, the items featured on the menu are pricier than other bakeries out there and the menu does not include the option to customize treats like croissants or other pastries. L'Artisane does require masks but if customers are hesitant to follow protocols or simply prefer to have their food in the comfort of their home, they can order through their website for nationwide shipping.
"Ordering online is a convenient way to order sweet treats since usually a bakery would not have the option to order online because of the time it takes and the shipping costs for the delicacy to arrive," freshman Devonte Jean said.
Overall, the delicacies are both delicious and natural when customers bite into their delicacy, but the taste of these delicious desserts are overshadowed by the amount of them costing and the amount of space customers have when eating or drinking at the bakery.