MLB The Show 20: This One's a Homerun
Release Date: March 17, 2020
Developers: San Diego Studios
Overall Grade: A
San Diego Studios has done it once again. With yet another successful launch, 'MLB The Show 20' is at the top of the sports video game world. With its newest installation boasting refined versions of previous game modes such as 'Diamond Dynasty', 'Road to the Show' and 'Franchise', they also managed to add a new fan favorite game-mode from March to October which takes a more realistic simulation experience to the MLB season.
Hitting and defense were praised in last year's version of the game as it featured realistic distinctions between gold glove caliber players and mere mortals. This year only added on to that, with the brand new motion animations that players received, regular all-star defenders are quick on their feet and are not as hesitant as others to make highlight-reel level plays. As for batting, the new plate coverage indicator gives a more in depth view while batting. Depending on the contact, power and vision of the player, they will know how to approach every at-bat.
Diamond Dynasty: A+
Moving on to the game modes, 'Diamond Dynasty' has been a fan favorite for multiple iterations of the game, with this year being no different. 'Diamond Dynasty' is basically a card collecting game mode where you are able to buy, sell and unlock current and historic players. You are then able to put your team together and play one of the multiple sub-game modes that 'Diamond Dynasty' has to offer with your squad. The newest is 'Showdown', which begins with you picking star studded players for ten rounds, making up the bulk of your team and the rest being automatically generated. As you complete the objectives, you will slowly earn more cards to improve your team so you can tackle the harder objectives. As the year goes on, San Diego Studios is constantly adding new cards to the game to keep it fresh and up to date.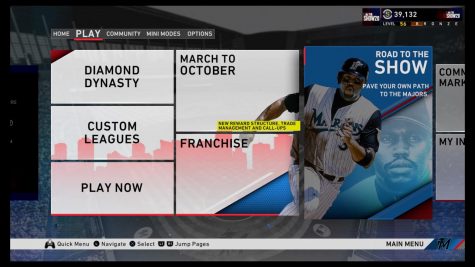 "I personally love 'Diamond Dynasty'. Being able to collect cards and put together my own team can keep anyone busy for hours. And they are constantly adding new cards to the game which always lets you have something to do and work for.Iit is just great," sophomore Edel Gonzalez said.
Road to the Show: A-
'Road to the Show' is a mode where you can create a custom character and practically live the life of an up-and-coming major league player. You start by doing scouted day games where you are evaluated for your skills, then quickly drafted by a major league team. Staying true to the baseball path, you start in the minor leagues and must work your way up while improving your character to make your way to the show. The only thing lacking in 'Road to the Show' is a lack of new cutscenes which would keep it more entertaining and fresh. Regardless, 'Road to the Show' is constantly a fan-favorite mode and the immersion and realism that it brings is always a plus.
"'Road to the Show' is the closest you are going to get to being a real professional baseball player. Everything is just so accurate, from the draft, to the rosters and even the contract length. It is always a game mode that I am excited to play every year when 'The Show' comes out and this year is no different," sophomore Alex Martinez said.
Franchise: A-
Every sports fan thinks they can do it better than the man in charge, and 'MLB The Show' 20 gives you that opportunity with 'Franchise' mode. Franchise mode lets you take full responsibility and control of an MLB franchise, including figuring out lineups, drafting, trades, signings and so much more. Not fond of the way a team looks? You can even redesign and make your own team from scratch. The possibilities are endless in Franchise mode as you watch your season unfold.
---
With all the major game modes covered, 'MLB The Show 2o' brought back all the other game modes from the past years with minor improvements. Some of these modes include 'Play Now' which now has even more accurate stadiums and rosters compared to previous seasons, 'Moments', which allows you to relive even more historic moments in history and a retro mode that lets older fans relive the experience of old baseball games with a throwback style similar to an arcade experience.
With yet another successful launch of their yearly iteration of 'MLB The Show', this version does bring greatly improved mechanics to some fan favorite modes, while also adding on to the realism that 'MLB The Show' brings. This is a must-buy for any sports fan in general since the immersion that it brings is incomparable to previous years and all the new features will keep anyone busy for hours on end.