Threefold Cafe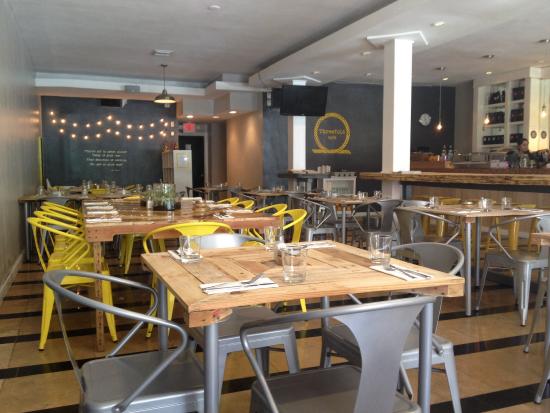 Our Rating: A
With the abundance of breakfast and lunch eateries in downtown Coral Gables, it can be hard to pick which one to go to. However, a new cafe on Giralda Avenue successfully endeavors to mix local ingredients with delicious food and great service, consequently blowing all other restaurants away. Although this restaurant just opened this past summer, it seems that it is already gaining the popularity it deserves, with a wait time of about 15 or 20 minutes on Sundays.
Threefold Cafe is run by an Australian couple dedicated to providing good food. A wide array of options are available although only locally grown food is used, including produce from Growing Synergy Foods in Central Florida, eggs from Lake Meadow Naturals and bread from Wynwood-based Zak the Baker. Panther Coffee, a Miami-based specialty coffee roaster, is also served. The most popular breakfast meals include the "Smashed Avo," a hearty serving of Avocado, mushroom, feta, lime and basil on a delicious slice of artisan bread, and the "Pope Benedict," a poached egg with ham placed on a homemade hashbrown, drizzled with Hollandaise sauce and served with a water-cress salad on the side.
"All of the employees have a really good mindset about life, and everyone is happy to be working at a place that is in tune with that mindset. There are just happy vibes," waitress Sheridan Plummer said.
The cafe serves breakfast from 8 a.m. to 3 p.m. on Saturdays and Sundays, and lunch after 11:30 a.m. during the week. Breakfast ranges from $6 to $16 and lunch ranges from $9 to $12. Whether you want a mere cup of Panther Coffee or a full meal, Threefold Cafe can certainly satisfy your palate.