The DMV Appointment Process: Should Reforms Be Placed On Its Online System?
As the students of Coral Gables Senior High mature and gain independence as young adults, many have begun practicing and studying to get their Florida Driver's Licenses. However, the Department of Motor Vehicles, which controls all matters relating to vehicles and their operation, has recently been subject to much criticism due to potential issues concerning long wait times. These problems have persisted for years now, and they have sadly impacted Gables students just as much as any other potential customer.
After the COVID-19 pandemic in 2020, the DMV made adjustments to its policy when it comes to when and where to schedule appointments. Instead of making appointments in person at its offices found throughout Miami, customers of the Florida DMV are now required to schedule their date in an Online Appointment System found on their website. In other words, individuals are not allowed to make their appointments as a walk-in through one of their offices at the Mall of Americas or any of their other establishments.
This new system, while appropriate for the period of quarantine, has not received the best feedback from most people, especially from the students of Gables. These Cavaliers, who are eager to begin their journey with their learner's permit and license, have found difficulties in their application process.
"
As a senior, I have been looking forward to having my ID and my license, since I couldn't get it when I was younger because of the pandemic. It's been a real struggle to get an appointment and I had to wait months just to schedule an appointment for [his driver's test],"
— senior Osmani Mesin
Firstly, the offices of the DMV have made it clear that they are accepting little to no walk-ins, meaning that the majority of appointments must be scheduled online. The problem with this program is that appointments are released on a daily basis, making them extremely rare and difficult to find unless one stalks the release time late at night. In addition, the website for the OAS does not allow customers to look for appointments past six to eight weeks from the current date.
This restricted access to appointments has made it easy for others to schedule them instantly through the use of bots, leaving few options for the rest. Because of their usage of these bots, people have begun scheduling different kinds of DMV appointments in Florida and other states with the intent of selling them to potential customers. Since there is seemingly no other way to find a DMV appointment in Florida besides waiting and hoping to get lucky, a number of people, including students here at Gables, have had to resort to purchasing a date from one of these sites.
"Being a 16-year-old here at Gables, I was definitely excited to be able to get my license and be able to drive soon. Unfortunately, I haven't even been able to get my learner's permit even though I have already met all of the requirements and did all the test, just because the DMV makes it impossible to get a proper appointment to get it done. I did not end up buying one of those resold appointments, but it was surely a real possibility, and the DMV should work on their system before those other websites take all their business," junior Steven Espinoza said.
Even after scheduling an appointment, customers have to wait for months at a time just to attend that date. On top of these intensely long wait times to show up to an appointment, they are also subject to excessively long lines at the offices of the DMV. For example, any person without an appointment must wait in line just to ask one question with these lines tending to be at least 30 minutes long depending on the office and its resources.
Should the Current Online DMV System be Changed?
Sorry, there was an error loading this poll.
As for those who have waited their time and come in for an appointment, they are sent to another section of the office, which is usually full with others who have appointments at the same time. Here, they are given a number and put into a queue, being forced to wait for at least one to two hours to be called to a station. It is understandable that offices may not have the most resources to deal with many customers at once, but having such absurd wait times for those who already waited patiently for their appointments is a huge flaw and should be reviewed and fixed in the future.
Ultimately, the DMV has been shown to have its set of flaws when it comes to queue times and the availability of their appointments. As students throughout Gables work to get their learner's permit and license to begin their road trip through life, these flaws continue to interrupt their progress. It is crucial that we as teenagers acknowledge and speak up about these issues in hopes that they will be addressed in the near future. More importantly, the DMV needs to listen to customers' grievances and take the steps to ensure that teenagers can get their licenses in a timely manner.
Leave a Comment
Your donation will support the student journalists of Coral Gables Senior High School. Your contribution will help us cover our annual website hosting costs.
About the Contributor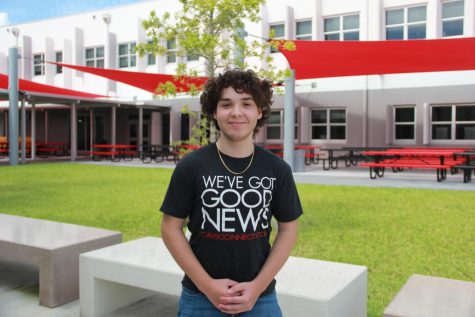 Anthony Fajardo, CavsConnect Staff Writer
Anthony Fajardo is a sophomore in the International Baccalaureate program at Coral Gables Senior High. Coming back after his first year, he is extremely...