A Million Ways to Die in the West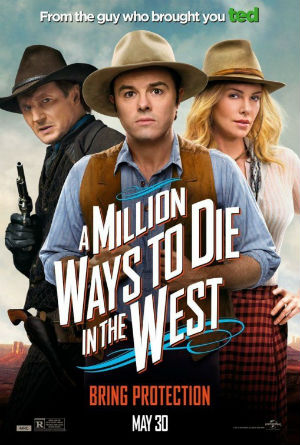 Release Date: May 30, 2014
MPAA Rating: R
Director: Seth McFarlane
Stars: Seth MacFarlane, Charlize Theron, Amanda Seyfried, Neil Patrick Harris, Giovanni Ribisi, Sarah Silverman, Liam Neeson
Our Rating: C
As one of the comedies released this summer, A Million Ways to Die in the West, has proved to delight our tastebuds with its witty remarks. Although the film has many clever allusions, some of the basis for the jokes may be considered juvenile and immature. This style of humor is intentional, as the director satirizes 1880s western customs, but the film does not seem to have a very intriguing plot.
The film follows the travels of two individuals, Albert Stark (Seth MacFarlane) and Anna (Charlize Theron), and the experiences they endure. As Albert Stark tries to protect his western town from bandits, such as Clinch Leatherwood, he encounters Anna and begins to explain the inevitability of death in the west.
In essence, the director's attempt to recreate a satirized-1880s West successfully ridicules ancient practices and its rigidity, but unfortunately, is delivered in a juvenile manner.