Through the Decades: Mr. Coral Gables Pageant
Bringing back the annual Cavalier tradition, the Mr. Coral Gables pageant has invited a new crowd to see Coral Gables Senior High's most talented male students face off a series of competitions and interviews. Following a new theme for this year, the boys put on their "Boogie Shoes" to dance "through the decades". Made possible by Ms. Diaz, senior Sofia Rodriguez and its 42 contestants, the pageant took place on Dec. 21 after eight weeks of daily rehearsals from 2:30 p.m. to 4:00 p.m. 
To start the pageant, the lights dimmed, quieting the audience. After an introduction from the Mistresses of Ceremonies, Elise Ballart and Helena Macedo, the curtains opened to reveal all the contestants in starting position. The music came on and the crowd hollered. From "Beat It" by Michael Jackson and his iconic moonwalk to a kick line performed to the tune of "Time of My Life" by Bill Medley and Jennifer Warnes, the young men began dancing through a series of generational hits as the crowd's cheering grew louder.
"I was very excited when Ms. Diaz first told me that I was going to be hosting Mr. Coral Gables. I went to every rehearsal, so I could not only learn the dances too, but to also bond with the boys. I was very nervous before speaking for the first time, but for act 2, I was more calm and more comfortable up on stage. I loved hosting Mr. Coral Gables, and I believe it was one of, if not the best moments, I've had at Gables," senior Helena Machado said.
Following a short hip-hop performance from the Gablettes, the audience clapped as Ballart and Macedo announced the contest's next segment: beachwear. Reading aloud every contestant's personal monologues about themselves, the MC's introduced every act to the stage, allowing each contestant to compete for the crowd's attention. 
The contestants and audience members sat eagerly, awaiting to hear the top ten finalists who were chosen based on their talent. Through the weeks of rehearsal, coordinator Ms. Diaz sat with each contestant, determining whether their solo performance was Mr. Coral Gables material. Hand selecting each act, she decided who would make it to top ten. Leaving it as a surprise for not only the boys but the audience too, as every name was called to the stage, the auditorium riled up.
The top ten contestants then performed another dance, this time with a Gablette. Modeled after a sweetheart dance, the performance started off with slow-tempo romantic songs like "Can't Help Falling in Love" by Elvis Presley, gradually, ending with "Marry You" by Bruno Mars.
"Glad to see all the boys who made it, and I'm even happier to wait for what's coming next year. Over the course of the long rehearsals we had, I was able to make new friends and memories along the way. I'm so happy I got to be a part of this amazing show and production, and with certainty I can say I will be participating next year," junior Mauricio Quesada said.
After the performance, each finalist was called to the stage to perform their talent. Heard across the audience, chants of contestants' names began before every performance. With two martial art acts, comedic monologues and even a magic show, the contestants proved their talents to the audience in a variety of different ways. While some had the help of their friends on group dances like Mr. FBLA and Mr. Bowling, others rocked the crowd with the strum of a guitar.
Reviewing each talent, the judges then casted their votes on the top five: Mr. HIP, Mr. Bowling, Mr. Italian, Mr. FBLA and Mr. Swimming. These five then underwent the live interview portion of the pageant, in what helped the judges vote on who was best fit for Mr. Coral Gables. Asking three questions, contestants were asked to take a look back into their time at Gables. 
After some thinking from the judges and applause from the crowd, senior Sofia Rodriguez announced the winners. Mr. Congeniality went to Mr. Italian. Mr. HIP was awarded Most Talented for his impressive dance performance. Tallying up fan votes from hours before, Fan Favorite then went to Mr. Math Club, Leonardo Grisard. And making it close, Mr. FBLA was awarded this year's runner-up.
"I have zero clue how that happened. I mean like, what an underdog story!! Everyone on stage was surprised, and I was dumbfounded. Fan Favorite is something usually reserved for a popular guy. Being able to show that a nerd like Mr. Math Club can do it speaks to all the people who were like me when I was a freshman — loners," senior Leonardo Grisard said.
Viewers were riled up, waiting for the next name to be called. Paying a special visit, alum Romulo Delgado, 2021 Mr. Coral Gables winner, walked up to the stage to crown the reign that would follow. After lots of suspense, Mr. Swimming, senior Brendan Groff, was crowned victorious, and the crowd erupted one last time. 
Leave a Comment
Your donation will support the student journalists of Coral Gables Senior High School. Your contribution will help us cover our annual website hosting costs.
About the Contributor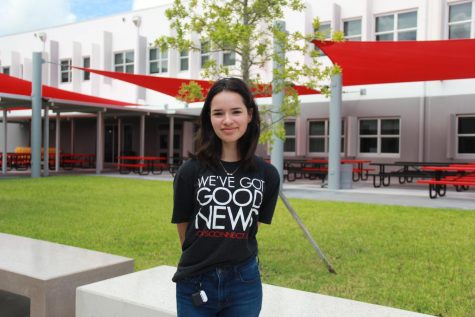 Maria Odio, CavsConnect Features Editor
Maria Odio is a senior at Coral Gables Senior High and is looking forward to continuing her writing career this year as features editor for CavsConnect....