Varsity Basketball Captain Romulo Delgado-Gonzalez Accepted into MIT
Although the Massachusetts Institute of Technology had an acceptance rate of roughly 4.7% for the class of 2025, Coral Gables Senior High's very own varsity basketball captain, Romulo Delgado-Gonzalez, managed to beat all odds with his early action application. Being passionate in his studies, basketball and extracurriculars, the student athlete earned a scholarship grant for the prestigious school.
As a child, Delgado-Gonzalez tried to spend all his time playing any sport he could get into. However, it was not until the sixth grade that he began to focus on basketball when his travel coach at Ele8 Youth Basketball Flight, also known as Pro Day Academy, invited Delgado-Gonzalez to compete for its travel team. Since then, Delgado continued to play basketball and eventually joined the Gables varsity team.
"I started playing with Rome at the Coral Gables Youth Center, he had a rocky start at first but once he started developing his foot work and shot he made the Varsity basketball team. Each game he averaged around 15 points and kept going till he became a great shooter, passer, and defense," senior Marcus Antoine-Taffe said.
During his freshman year, the senior started off as a shooting guard and small forward and quickly grew to become the varsity captain for the next three years. During his first year as captain, Delgado-Gonzalez got noticed at one of his games by a MIT scout who considered him a potential prospect for the university. From that day forward, it was his goal to be accepted into his dream school.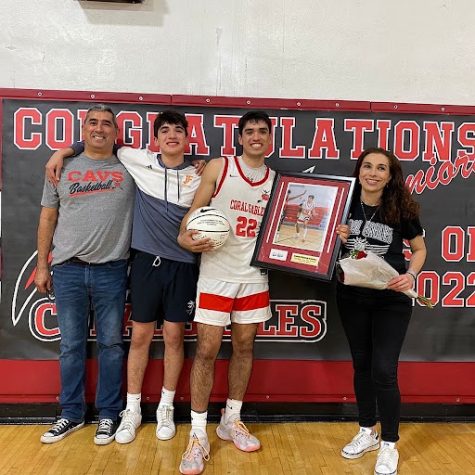 Although the recruitment scout helped Delgado-Gonzalez make connections with the administrative office at MIT, the athlete also needed to excel academically to have a chance at being accepted. Managing both basketball and his classes in the International Baccalaureate program, Delgado-Gonzalez achieved a 5.35 weighted grade point average and was top 3% of his graduating class.
In search of a school with a finance-concentrated program, Delgado decided to apply for MIT's Sloan School of Management as it offers dual Master degrees in business analytics and finance. Aspiring to study a dual major, Delgado hopes to gain hands-on experience and learn how to solve real-world business problems.
"I am super excited to go up to Boston and be a student athlete up there. It is honestly a dream come true and being able to study and play basketball at one of the best colleges in the nation is the best of both worlds," senior Romulo Delgado-Gonzalez said.
During the month of September, Delgado visited MIT and immediately fell in love with the campus and its location. Located in Cambridge, Massachusetts, MIT's campus is close to a couple of Delgado-Gonzalez's friends that will attend neighboring universities such as Northeastern and Boston University. Although moving away seemed bittersweet at first, it was reassuring knowing that he would have familiar faces nearby.
"Being a part of the Gables and basketball has been my favorite thing to this day. I've been able to meet so many people, understand the value of commitment and discipline and just overall have fun with your teammates that you spend every day getting better with. I love Gables and it has definitely made me a better person and player overall," senior Romulo Delgado-Gonzalez said.
Mixing together his passions for business and basketball, Delgado-Gonzalez is prepared to see where life as an MIT student will take him. While his future remains bright, the senior's accomplishments will never be forgotten as he has set the example of what it truly means to be a student athlete.