Gables' Got Talent: A Review of Mr. Coral Gables 2021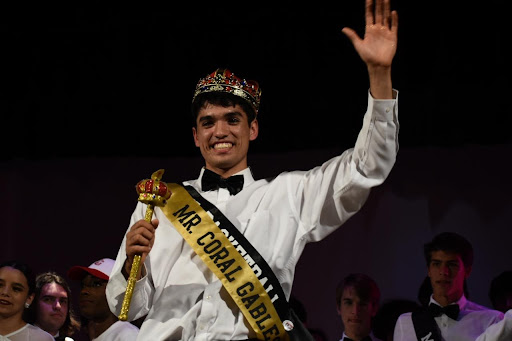 After a year-long hiatus, Mr. Coral Gables has made a comeback. The annual pageant, which occurred on Dec. 15 this year, features male representatives from all clubs, sports teams and other organizations at school along with the Gablettes, who perform in and in between some acts. The "Misters" dance, model, perform talents and answer interview questions in front of a panel of Coral Gables Senior High alumni judges who determine the winner, "Mr. Coral Gables". There are other awards for the boys to win as well, such as Mr. Congeniality, Fan Favorite, Runner-up and Most Talented.
The year's theme was "Boy Band Nation", which saw the contestants dancing to hit songs by groups such as One Direction, Backstreet Boys and the Jackson 5. The choice of music was excellent, and the choreography was very well done. The transitions between songs did not feel rough and not once did the dancing become repetitive.
For weeks the boys and Gablettes practiced, guided by Ms. Diaz, and executed the dance marvelously, especially considering that most had no prior dancing experience. They even had opportunities to freestyle and show off their own moves, making the whole act fun and unique. The following hip-hop performance by the Gablettes was funky and exciting, a real treat from Gables' national dance champions.
"I thought it was so fun! I was rooting for Mr. Gables Players and Mr. Chess, but I was still cheering for everyone who came out even if I didn't know them just cause it was fun to see them react to all the support and noise for them," junior Sarah Whalen said.
In the beachwear portion of the show, the boys walked out and posed on stage one by one as the announcer introduced them to the crowd. Some went above and beyond with their act, coming out with amusing Darth Vader floaties, swim flippers, snorkels, beach chairs and coolers. It was an exciting opportunity for the "Misters" to show off and have their time in the spotlight. Afterward, all the boys lined up on stage for the top ten to be chosen.
"This was my first Mr. Coral Gables, so I didn't know what to expect. I was so caught off guard by the dance number all the contestants partook in. It was really amazing, no matter how hard you looked at it there were hardly any slip-ups. The Gablettes had an amazing performance like they usually do. The beachwear segment of the pageant was funny, but after the top ten were revealed, I wished they hadn't kicked off more than half the contestants so we could see even more talents," junior Arcenio Saballos said.
The Top Ten dance went smoothly, and it was interesting to see each contestant dance with a Gablette. The lip syncing and emotion the boys put into this dance really sold the act. Even as they picked up, spun and tossed their partners, the Top Ten dance did not come to a halt, a testament to the many hours of practice the performers put into the event.
There was a wide range of talents: from piano performances to martial arts, comedy sketches to a dancing glow stick man and more. Some personal favorites were the comedy sketch revolving around a pre-recorded conversation Gabriel Wagner, Mr. CavsTV, had with himself, Lawrence Stampino-Strain, Mr. Student Council, dancing to "Umbrella", Julian Mesa, Mr. National Honor Society, painting the Cavalier to Adele's "Rolling in the Deep" and Jose Fernandez's, Mr. Gables Earth, piano performance.
The Top Five interviews went by quickly, and the contestants gave a mix of serious and funny answers. The ultimate winner and Mr. Coral Gables was Romulo Delgado, Mr. Basketball. Ethan Kaddour Moore, Mr. Italian, won Mr. Congeniality while Julian Mesa, Mr. NHS, won Runner-up and Fan Favorite and Gregoire Winston, Mr. Highlights, won Most Talented.
This year's Mr. Coral Gables was a class act. The pageant has come back stronger than before and was a lot of fun for those participating and those watching. Hopefully, next year's show will live up to this one and feature as many, if not more, talented and passionate performers.