Seniors Celebrate Their Last First Day With Their Senior Crowns
From the moment students step foot into school on their first day back, they hear the unmistakable chatter of friends catching up, hallways swarming with their classmates and seniors showcasing their new crowns.  
On the first day of school, Aug. 17, the Class of 2023 entered Coral Gables Senior High, each with their own unique crowns worn proudly on their heads. Among the roughly 700 seniors at Gables, the top three winners of the CavsConnect Senior Crown Contest were Maria Montelongo, Audrey Simon and Liz Correa.
---
First Place: Maria Montelongo
After the competition was announced, Montelongo wandered, looking around for inspiration when an idea hit her. As a huge Star Wars fan, she wanted to decorate her crown with something surrounding that theme. Knowing not too many people would follow a Star-Wars theme, Montelongo chose to execute this unique idea.
Once her decision was made, Montelongo began working on her crown Saturday before the start of school. She gathered with a group of friends at Shenandoah Park, and they all decorating their crowns together. Beginning by painting the whole crown black, Montelongo and her best friend continued by outlining "Episode XXIII" in yellow, following the color scheme of the Star Wars introduction. After adding the Millennium Falcon and the Death Star to both sides, she grabbed a paintbrush and white paint to add a splatter paint technique which made it look as if there were stars. 
After submitting her crown to the CavsConnect contest, she waited to hear the results. The morning of Thursday, Aug. 25, the winners were announced for everyone to hear.
"I started jumping up and down [when I heard I had won] because that was one of my senior goals. I really wanted to win best crown and having won is just a peak moment of the school year," senior Maria Montelongo said.
Second Place: Audrey Simon
Wanting to personalize her crown, Simon incorporated nostalgic photos from the past three years, including images during her time in cross country and moments from her junior ring ceremony. Simon came up with the idea of using the pictures to form the word "Senior", each letter representing a different aspect of her high school life.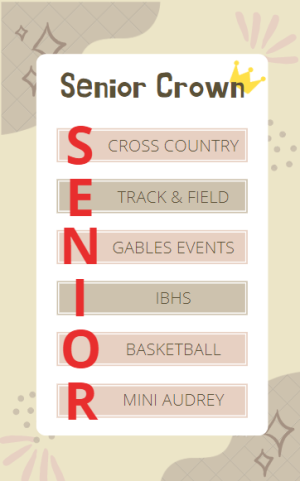 "[The pictures] just make things more meaningful and reminiscent of the past. I wanted to do something amazing with my crown, because that was something that was very important to me. So I finally got the idea to include pictures of myself throughout the years in the letters," junior Audrey Simon said.
Planning for her crown design in August, Simon met up with a group of friends and started right away. After cutting the photos to form the word "Senior", she decided to represent her high school career by adding the initials CG for "Coral Gables" and the number '23, representing her graduation year.
Simon was very dedicated to her craft, remaking her crown twice until she felt ready to wear it. After much blood, sweat and tears, Simon was ready to showcase her crown during the first day at school.
"I felt very happy. In my mind, I was like, wow, this is my last year here; this is my last first day. It was very sad, but very exciting," senior Audrey Simon said. 
Knowing the chances of surpassing her peers in this competition would be difficult, Simon's work paid off when her senior crown got second place.
Third Place: Lia Correa
After endless searching on Pinterest, Correa had a clear vision in mind of how she wanted her crown to look, accurately represent her.
"
I felt really excited making the crown because I knew it was going to be used for a very special day: the first day of my senior year.
— Lia Correa
On Aug. 4, she spent three hours sketching, cutting, painting and gluing stickers to construction paper. For decoration, Correa's pink and white crown was lined with flowers on the bottom and pearls on the top, with a big "SENIOR" sign displayed in the front. 
"I loved how the crown looked since it represented kindness and femininity. I felt really confident after finishing my crown because I was super happy with the results and what the crown represented for me," Correa said.
Working in class that Thursday morning, the announcements caught her attention. Hearing her name, she was overwhelmed with joy.
---
As the Class of 2023 begins their final year at Gables, they are determined to make it count, demonstrating pride for their alma mater. For more pictures of seniors with their crowns, check out the CavsConnect instagram by clicking here.
Leave a Comment
Your donation will support the student journalists of Coral Gables Senior High School. Your contribution will help us cover our annual website hosting costs.