First Day of School: Students Return for Physical Classes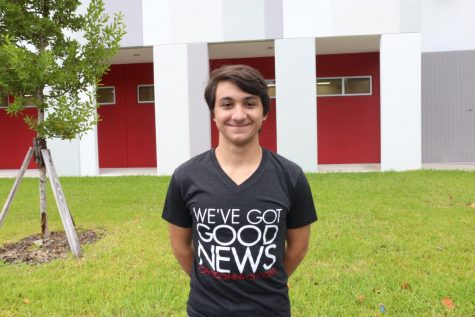 More stories from Massimo Aguila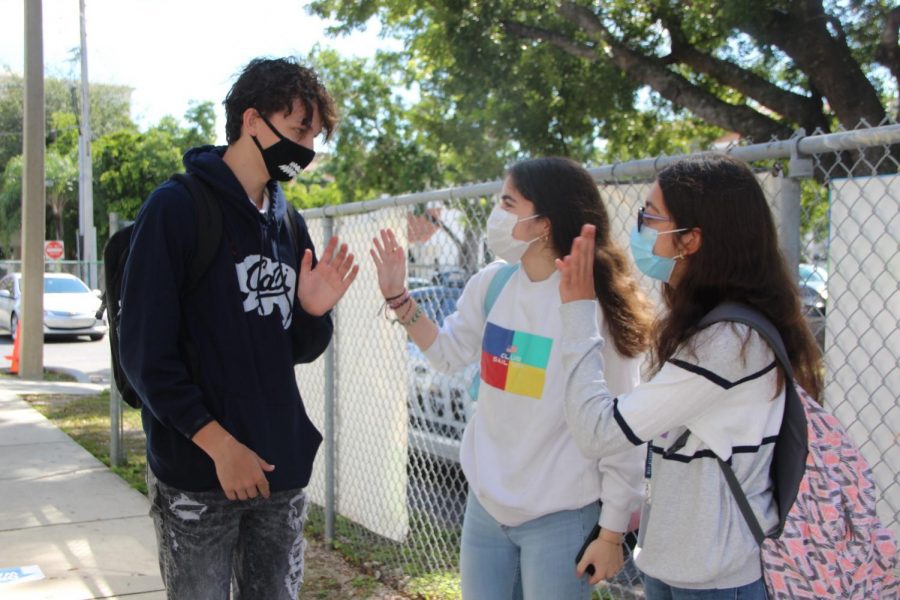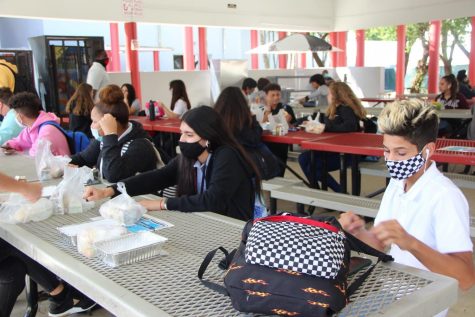 The first days of the transition back to physical classes for students who chose in-person learning has finally occurred for Cavaliers. A staggered return was established to split the student body into smaller groups and ease kids into using one-way hallways and following new safety guidelines. Freshmen and sophomores returned first to the Coral Gables Senior High campus on Wednesday, Oct. 7, while juniors and seniors joined the underclassmen on Friday, Oct. 9.
This week marked the beginning of physical classes for the 2020-2021 school year at Coral Gables Senior High. Although it was certainly a unique experience for students and teachers alike, the transition went well for those that chose to return.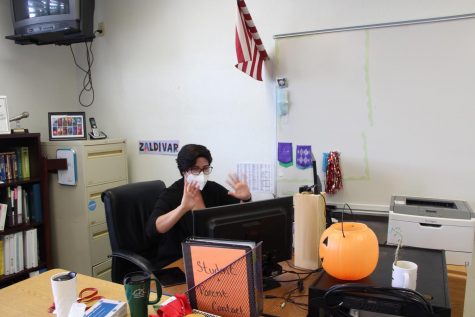 When entering the building, students were first handed maps of the school and on it, the plans for the new one-way walkways to accommodate social distancing guidelines. Arrows placed on the walls and floor also indicated the direction of hallways and the correct way to get to different buildings.
The allotted time for hall passing between periods was also doubled from the usual four minutes to eight minutes to allow students more time to navigate hallways and reach their classes while abiding by the guidelines. Principal Ullivarri mentioned in the afternoon announcements that errors or inconveniences in the walkways were identified during the day and will be resolved.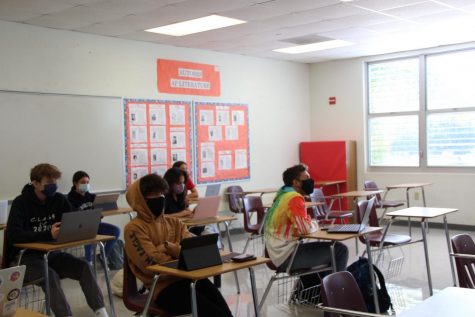 "The one-way walkways are a slight inconvenience to the general walk-around of school and getting to my class. But, it is honestly still doable and good for following social distancing guidelines," sophomore Austin Yagoda said.
Lunch has its own set of guidelines in order to ensure everyone's safety, which includes staggered seating and the cutting down of lunch lines. To avoid crowding, there are now three lunch periods, splitting up students based on their fifth and sixth periods.
Lunches are prepared beforehand and are distributed without the need for students to enter student identification as it is completely free for everyone. The only seating is located outside in areas such as the Pavilion, where students must sit in a staggered, number-controlled arrangement to allow for spacing and socially-distanced eating.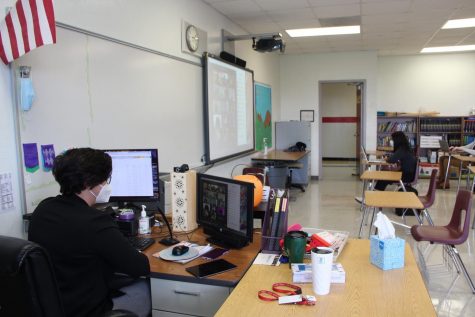 "Instead of having to face these guidelines at school, it is better to be at home where you are comfortable. You do not have to wear a mask and can eat what you want, wherever you want," sophomore Jon Trueba said.
In the classroom, social distancing is being maintained with desks separated at least five feet. Some teachers have plexiglass that they have placed in front of their desks for added protection. Moving within the classroom as well as exiting is strictly reserved for emergencies only.
Students and staff must always be wearing a mask when on campus, with the exception of lunchtime when sitting down at a table. Bathrooms are limited to two students at a time, and teachers ask students only go if absolutely necessary in order to prevent unnecessary movement and additional risks.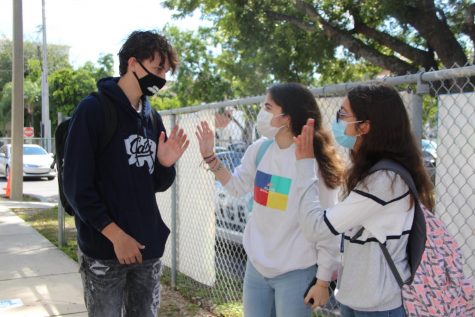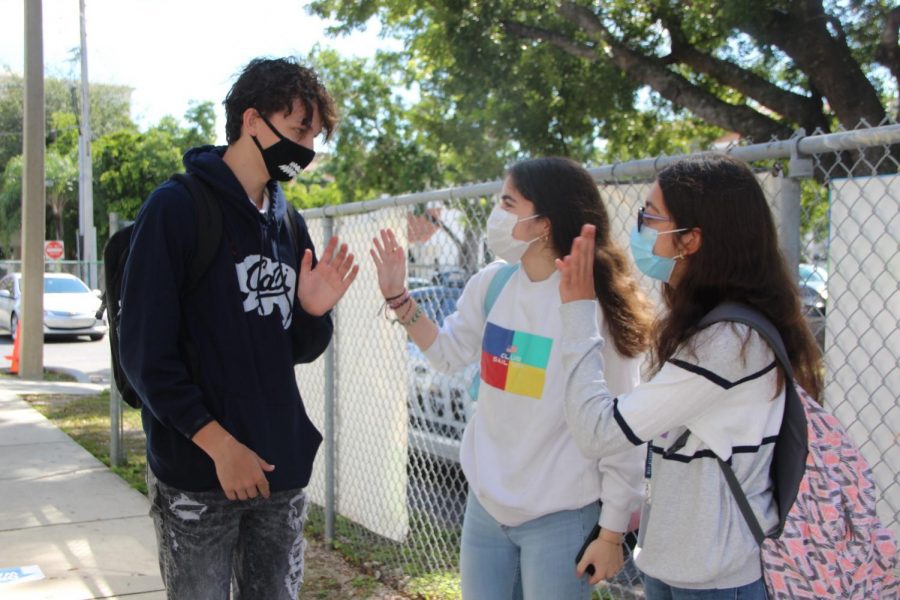 Sanitary products such as hand sanitizers and Clorox wipes were also provided to have on hand at all times. This is important to prevent the spread of germs and contain viruses found on our hands and body. In order to continue access to these products, the Andrea Jaime Medical Leaders Club, the National Science Honor Society and the National Honor Society are having a supplies drive where students can get extra credit for bringing essential equipment to four different drop-off locations. To learn more about the drive and how to receive extra credit, email [email protected].
Teachers seemed positive with respect to the transition and were happy to see at least some of their students return to school in order to meet them in person. Some students suggested that the return was much better than expected and enjoyed the opportunity to see their friends and have lunch with them, despite the social distancing guidelines.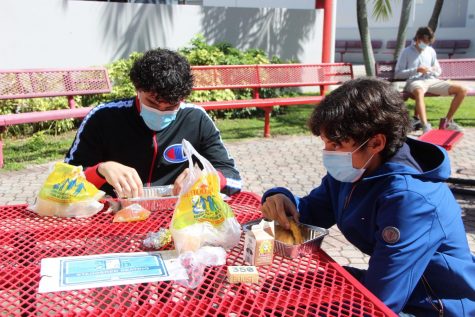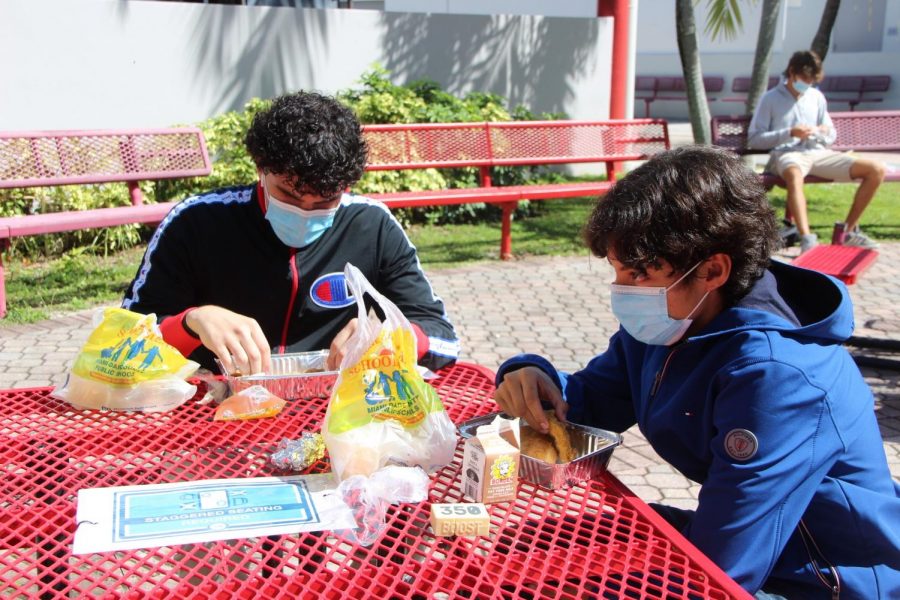 "I thought that the first day back went as smoothly as it could. I am teaching dual-modality and I think that both students at home and online felt it went well. It was nice to meet and interact with my students outside our Zoom world," Ms. Cosgrove said.
Luckily for Cavaliers, the transition seemed to go well with no major issues arising so far. It is still important to maintain safety protocols in order to ensure this smooth transition stays successful. Principal Ullivarri and staff will continue to monitor classrooms and hallways to ensure a safe transition back to physical school.
Leave a Comment
Your donation will support the student journalists of Coral Gables Senior High School. Your contribution will help us cover our annual website hosting costs.