Politicare Returns to Gables
Continuing the legacy of this student-run initiative, this year's annual Politicare event informed Coral Gables Senior High about social politics and the American justice system.
The day, filled with sessions and speakers, was organized by the Political Activism and Civic Engagement club on Mar. 15 in the Gables gymnasium.
The day began with Dr. Steven Marcus, the former president of the Health Foundation of South Florida. Marcus' discussion centered around public health and social disparities, providing fictional examples to show just how different life can be for everyone and how limited access to things like free education, healthcare and public transportation can change a life.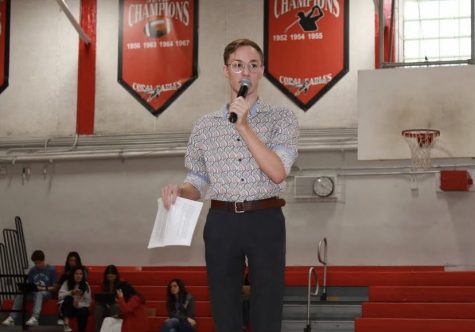 After Marcus' speech, a kickboxing lesson took place, tying the speech to the session's theme of health and well-being. Students were asked to participate, throwing punches and learning different exercises from a Gables alumni.
During fourth period, senior Briell Robinson and guest speaker Max Fenning presented about social justice. Robinson began by talking about the importance of students taking initiative in issues that concern them. She urged students to start clubs, protest and attend school board meetings to become informed on pressing issues and enact change.
19-year-old college student Max Fenning led a discussion about "burnout", and urged the audience to take care of themselves and work to be mentally healthy. Fenning interspersed humorous comments between relatable topics to connect back to the student body and keep Cavaliers engaged.
For session three, guests Hector Dopico and Heliane Batoff taught Gables students about all the aspects of being a public defender. Both guests took turns presenting the crowd with the importance of public defenders who "protect citizens from the state". Specifically, Dopico educated the crowd on the Louisiana Five, a group of five young teenagers who were notoriously wrongfully sentenced.
"I think that they really shed a light on what it's like to be a defense attorney. They told us what it's like to deal with difficult cases while remaining professional and that it's much more than what is shown on television," sophomore Daniela Pajòn said.
After three eventful sessions filled with civic engagement, Politicare came to an end. Attending students learned about self-defense, politics and criminal justice all while interacting with knowledgeable individuals in each subject.