Finalizing Our Future: College Fair 2021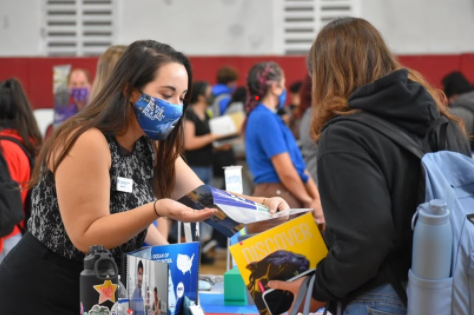 With college applications nearing, representatives from 38 universities around the United States visited Coral Gables Senior High to participate in the annual college fair. On Oct. 4, schools such as Harvard University and the University of Florida set up presentations at their designated tables in the school gym and participated in three sessions from 12:30 p.m. to 2:20 p.m., during which students explored booths and interacted with the college representatives.
The annual college fair is organized by the Parent Teacher Student Association at Gables, a group of parent volunteers who dedicate their time to helping the school. The PTSA and student volunteers greeted the college representatives and assisted them with setting up their tables and presentation materials.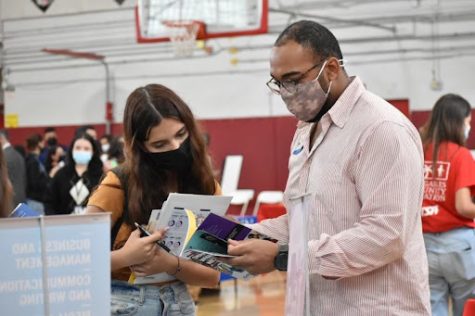 Prior to the opening of the fair for students, representatives of the Junior Reserve Officer Training Corps program paraded the American flag while the school chorus sang the National Anthem for the visiting representatives. The college representatives were also served salads prepared by students in Culinary Arts and coffee from the PTSA to energize them for the duration of the college fair.
Throughout the three 30-minute sessions students were allowed to freely roam the gymnasium and converse with as many college representatives as they desired. The college representatives provided standard information about their respective colleges such as student population, average Scholastic Aptitude Test & American College Test scores and faculty to student ratio.
"The college representatives were super friendly and were able to answer all of the questions I had. Every college representative that I approached was eager and excited to talk to me about their college," senior Diego Varona said.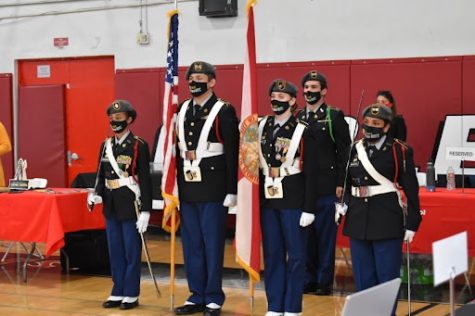 Students were also able to gain insight into what each school offers academically with regard to their personal goals during college. College representatives provided students with information such as the programs offered at the school or the most popular field of study.
"After going to the college fair, I added more colleges to my consideration list and feel like I have more options now. Before my list was limited to a few schools in Florida, but during the college fair I found some out-of-state colleges that interested me," senior Laurent Puyana said.
The college fair ended at 2:20, but students were able to continue their communication with the colleges they were considering applying to by signing up for newsletters and mail lists. Students were also given flyers and the opportunity to fill out personal contact cards that were kept by the representatives.