Hurricane Ida Leaves Louisiana Without Power
Hurricane Ida made landfall in Louisiana as a Category 4 on the same day that Category 5 Hurricane Katrina hit the state 16 years ago. The storm reached the coast on Aug. 29, and the damages caused a major power outage to most of the area. In total, Ida could cost insurers close to $18 billion to repair everything that was destroyed in the United States and the Caribbean.
Ida is said to be tied as the fifth-strongest hurricane to ever make landfall in the U.S., with winds reaching highs of about 150 mph. As it traveled inland, the hurricane dropped to a Category 2 storm with winds at 105 mph until it reached a pace of approximately 8 mph while heading north.
About 1 million Louisianians have been left without power after the passage of Ida. Experts have suggested that electrical grids in the region may not be operational for multiple weeks. Generators are a short-term solution to providing some electricity, but most households do not have access to one.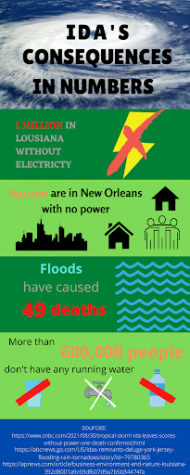 "The struggles they will face is not being able to cook, they won't have light, electricity, and it would take a lot out of them to try to survive it and get over it anytime soon," sophomore Luciano Magaldi said.
Due to the lack of power and light, the city of New Orleans imposed a strict curfew from 8 p.m. to 6 a.m. in an effort to avoid theft at night and to keep the streets safe. Mayor LaToya Cantrell did not give a timeline or an end date for this curfew.
Moreover, a heatwave overcame southern Louisiana on Tuesday, which put many at risk of death since there was no electricity and therefore no working air conditioning. Those who had evacuated to other states were advised by officials to not return to their homes for the time being.
"The Louisianians will be facing a clear life or death struggle in this hurricane. Any hurricane is very dangerous, and if some people do not have the proper infrastructure in their houses, their lives could be in real danger," sophomore Steffi Sarmiento-Mena said.
Six people have already lost their lives as a result of the hurricane and casualties could continue to rise within the next few days. The two latest deaths confirmed were those of electrical workers who were trying to fix the power in Alabama and were electrocuted in the process.
Hospitals were also affected as victims from the storm were brought into facilities already at maximum capacity due to COVID-19. One hospital even had an issue with a generator powering the intensive care unit, and the medical staff had to manually pump air into the lungs of patients. However, the crisis was managed as the patients were placed on a different floor, which had power, and there were no casualties.
There is a long road financially and emotionally to full recovery from Hurricane Ida. Medical volunteers from various organizations have been assisting victims of the hurricane. Additionally, several charities and natural disaster relief have set up ways to donate money to help get food and water to those who do not have access. Donations can be made through relief fund websites to show support.