Masks Mandated in Miami-Dade County Public Schools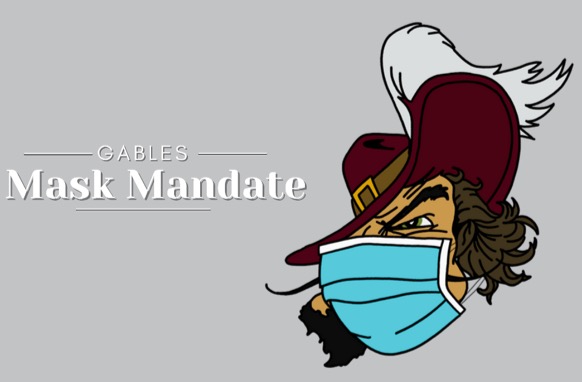 As the start of the new school year neared, parents and students across Miami-Dade County wondered what type of mask mandate the superintendent, Alberto Carvalho, would implement in schools. After an entire school year of online learning, schools in South Florida are attempting to transition back to physical classes without spreading COVID-19 to many of the students. To ensure student safety, Superintendent Carvalho has implemented mask mandates for all Miami Dade County Public Schools.
Florida Governor Ron Desantis was opposed to enforcing the mask mandates and passed an executive order to allow parents to choose whether or not their children had to wear masks, however, this did not stop the MDCPS superintendent from imposing the mask mandate. On Aug. 18, 2021, Carvalho retweeted a tweet from the official MDCPS account stating that "facial coverings are required for all students, employees, volunteers and visitors".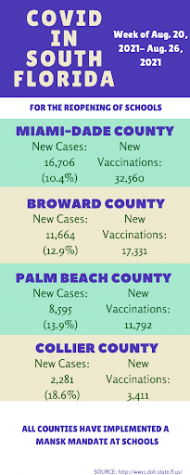 On July 30, 2021, Florida Governor Ron DeSantis issued executive order 21-175, stating that parents would be able to choose whether or not their children wear masks to school. The governor disagreed with the reports released by the Biden administration calling them "unscientific and inconsistent recommendations."
"I was in school last year and I still did not enjoy having most of my classmates on Zoom, I'm glad we are all back but I'm just afraid we will have to go back to online," senior Isaac Zerdoun said.
Miami-Dade was one of the last counties in South Florida to make their decision. Broward and Monroe County were some of the first to defy DeSantis by implementing mask mandates across all schools. These mask mandates required that any child attending a K-12 school in these counties would have to wear a mask at all times – the same decision that Carvalho has now come to.
DeSantis attempted to restrict the ability to implement these mask mandates, however, Judge John C. Cooper ruled that this decision overstepped his boundaries. While the Florida governor may not agree with this decision, many parents and students across South Florida are happy to be returning to school in a safe and cautious environment.
"I'm really happy to be going back to school this year. Last year I was online all year which made it difficult for me to concentrate on class," senior Oliver Michel said.
At Coral Gables Senior High, extra precautions are also being implemented to try to reduce the risk and spread of COVID-19. Teachers are told to keep specific seating charts in classes so that if a student does end up contracting COVID-19, only the classmates seated around them will be quarantined. This process will limit school absences due to quarantining, which was a problem for many physical students last year.
After being quarantined, students are allowed to return to school once they confirm that they are experiencing no symptoms and have a note from their doctor allowing them to come back into class.
As cases continue to rise across all the counties in South Florida, teachers and students are being cautious in school to reduce the risk of spreading the virus. For the time being, this is the solution that the superintendent has decided on, and as long as the spread of the virus does not increase, children will continue to attend school in person for the remainder of the year.