Vice Mayor Vince Lago Vies for Mayorship
As Raul Valdes-Fauli retires from his position as Coral Gables mayor this April, Vince Lago, the current Vice President of the Board is throwing his hat into the ring for a chance at the newly opening seat.
Lago was born in New Orleans, Louisiana, and lived there until he moved to Coral Gables in 1980. He graduated from Gulliver Preparatory School in 1996, later meeting and marrying Olga Mari Saizarbitoria Lago in 2007, a Coral Gables native and a research analyst for Discovery Communications.
Lago earned a Masters in Construction Management from the Engineering School and a Bachelors of Business Administration from Florida International University. Due to his background in engineering, he was appointed as a board member of the Miami Dade Transportation Planning Organization representing the City of Coral Gables. On the board, he worked to enhance South Florida's transportation system while meeting energy conservation needs and preserving the physical and social environment of the community.
One of his early accomplishments was his role in co-founding the "Arroz con Mango" gala that raises money for cancer patients part of an organization known as the Florida League Against Cancer, also known as "La Liga." Although it started as a party that raised hundreds of dollars, today, the gala holds nearly 1,500 people and raises hundreds of thousands of dollars for the organization. The FLAC has helped treatment costs for nearly 50,000 low-income cancer patients in its lifetime.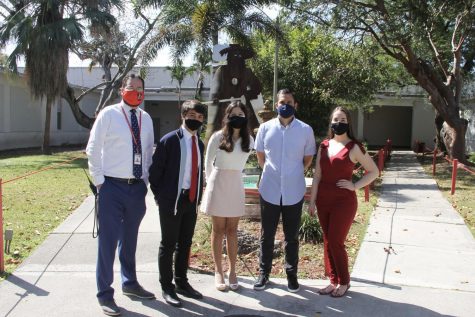 "That money is important, but what is really important is that after we gave the money to La Liga and you go to visit the volunteers, you could see your money at work. You could see people who would come up to you and say, they were scared, nervous about not being able to pay for cancer treatments and say your donation allowed them to be cured of cancer. That to me is what service is all about," Lago said.
Currently, he serves on the Miami Museum Board and the City of Miami's Arts and Entertainment Council where he highlights the importance of public art. In an effort to help local artists, Lago serves on the board of the Locust Project, a non-profit contemporary art organization that supports these emerging and mid-career artists. Lago also serves on the President's Council at Florida International University, where he dedicates his time to teaching the importance of higher education.
Lago has served as a Coral Gables commissioner and Vice Mayor since April of 2013. As a commissioner, he writes over 95% of the legislation that passes through the board and posts all that information openly on his website, including all other agenda items and resolutions. He stresses his position on openness with the people when it comes to public affairs and writing of legislation the local government needs to maintain with the people. He currently holds open-door meetings every Friday, from two to six in the afternoon; anyone can come and visit his office for any type of complaint or request about the city. Due to COVID-19, he now holds an open Zoom meeting.
His current election campaign is endorsed by many former mayors, as well as some former and active members of the Coral Gables government, including the current mayor, Valdes-Fauli. As mayor, Lago aims to expand on his ideas of public transparency and engagement. So far he has done this by starting a monthly event where the entire administration will dedicate time to listening to residents and issues or concerns they may hold, and addressing them.
He also strives to continue his traffic management initiatives throughout the city, having passed legislation that took three years to pass, lowering residential speed limits to 25 miles per hour. Having led a blanket study of traffic trends across the entirety of Coral Gables with the district instead of focusing on one area, they identified many different points that needed work and requested funding from the county to address all these issues at once.
Addressing environmental problems and turning to greener alternatives is also a focus of his campaign. Lago personally has a solar-powered household, as well as an electric car, but mentions the importance of city-wide measures. He wrote legislation to tax developers 0.5% for new constructions, which will generate over $20 million, over the course of the next ten years, for the creation and maintenance of parks and outdoor spaces in the city.
"I wrote a piece of legislation that will bring over $20 million over the course of the next ten years, not from taxpayer money, but from developer money, as buildings are being installed. 0.5% of construction is used to buy parks. You can see we are already starting to buy pieces of land, small little pocket parks so that families can walk five minutes from their home and enjoy an open space with their loved ones," Lago said.
Even while holding public office, Lago has attended various school board meetings and has always maintained a level of involvement with Coral Gables Senior High. In 2019, when college tours were taking place for students interested in out-of-state colleges, a few Cavaliers could not pay the fee for the trip. Lago helped by donating $2,000 of his own money to Coral Gables Senior High School to help fund their trip, also providing t-shirts for a Florida Assessment Incentives event.
As a final message to the residents of Coral Gables, Lago stresses the importance of a leader who is respectful, that has the right temperament and that is always going to be present, even in the most difficult of times, like with COVID-19. He feels he holds all these qualities, and is, therefore, the best person for the job.