Gables' New Ride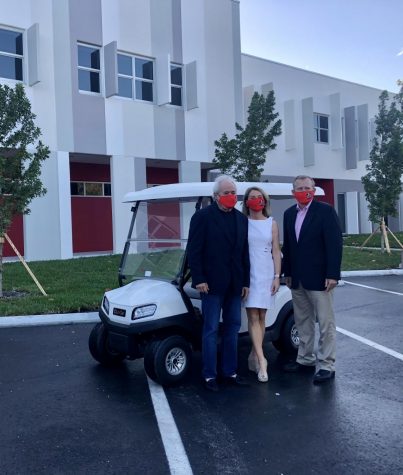 Students, faculty and Friends of Gables High members stood together in the remodeled Building Six parking lot as they waited in anticipation for the arrival of the brand-new "Gables ride." Mr. Curtis, assistant principal and head of the school construction project, drove up in a pearly white golf-cart as Cavaliers cheered and admired the school's new addition. Having arrived on Friday, Feb. 27, this gift has been just one of several renovations, additions and upgrades that have been granted to Coral Gables Senior High School this past school year.
Being a 71-year-old structure, Gables has required some maintenance over the course of its life. Among these enhancements was a state-of-the-art golf cart which the school's athletic department has needed for quite some time. The two carts that the school already owns were outdated and made of refurbished parts that were not holding up to the test of time. Both coaches and student-athletes understood the significance of having a modern vehicle that they could use day-in and day-out for their needs. Luckily, Mr. Grossman, board member of Friends of Gables High, stepped in to aid the school.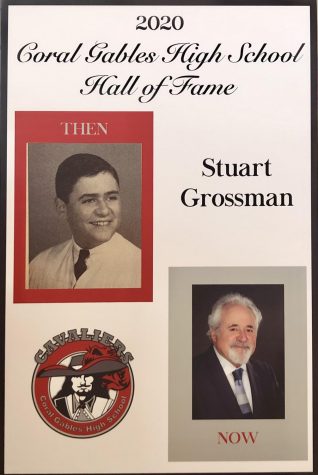 Mr. Grossman, recently inducted into the Coral Gables Hall of Fame, appreciates the importance of keeping a community school in good shape. Since his graduation from Gables in 1964, Grossman faced many ups and downs before he found his true calling in life. After attending two institutions and having to withdraw from each due to changing plans, he finally found his niche in life as a lawyer back in Miami. He understands that Cavaliers may not yet know their goals or desired future, but believes it is important to create a strong environment at Gables that will help foster the ideas of students.
"I think Gables was more of an inspiration to me than any other institution I have attended… It does my heart good to see the vitality and to see the school get refreshed and have a brand new property… I especially like the fact that they have recognized different talents and the kids and arts are taken seriously," Grossman said.
With five acres of land, the golf-cart was needed to make carrying around sports equipment easier for the athletic department. Mrs. Suarez, Gables's activities director, shares that "we have never had a brand new golf cart," and understands how lugging around five-gallon coolers onto the sports field can be a difficult task without the assistance of a vehicle.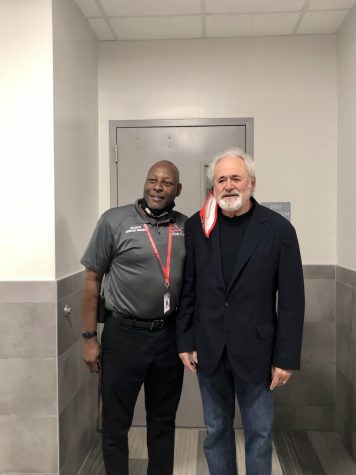 The golf cart does not only serve to transport sports equipment, but also benefits faculty members who are always navigating the school campus. Since the construction of the new building, Gables staff — specifically Mr. Curtis — have been traveling back and forth between buildings to monitor the progress of ongoing projects. With the brand-new vehicle, administrators will no longer waste any time walking to and from Building Six.
"As a member of one of the Gables sports teams, I see plenty of benefits to having a new golf-cart. It will be super beneficial when a player gets injured…a quick vehicle, whether if as simple as getting an ice pack or transporting a student with a more serious injury, will give the athletic department an advantage," senior Sara Rabell said.
There is no doubt that this addition will benefit the Cavalier family. Gables is grateful for the assistance of alumni such as Mr. Grossman who step in and lend a helping hand. Though just a simple machine, this golf-cart has put a smile on all Cavalier faces.