Catharsis takes Home Scholastic Regional Awards
Catharsis, Coral Gables Senior High's official literary and arts magazine, has won multiple Scholastic Regional Awards for the 2020-2021 school year.
Scholastic Art and Writing Awards are given out in the form of silver and gold keys by the national, nonprofit organization Alliance for Young Artists and Writers. To be considered for an award, Catharsis had to send their submissions before Jan. 6 into categories varying from Comic Art to Journalism. The writers and artists only had two weeks to prepare their submissions before their class sponsor, Ms. Zaldivar, approved them and sent them for judging. Each entry is judged on its originality, technical skill and "emergence of a personal voice or vision".
After waiting for one month for the results, on Feb. 9, the publication received news of their placements. Seven of the entries received a Scholastic Award. Out of the 11 writing categories, their winning writing pieces were for the poetry, drama and prose sections. They also had a handful of winning art pieces. Tatiana Batists and Kai Guin received an Honorable Mention. Lucas Warfman, Jose Sanchez, Alexander Oliva and Marie Chacon each received a Silver Key, and Chloe Grant received a Gold Key.
"The creative writing program participates in Scholastic Art and Writing every year. We always have students move on to the national level of the competition and students receive some of the highest honors nationally most years. It is amazing to have Gables and Catharsis be so well represented in the largest student art and writing competition in the U.S.," Catharsis supervisor Ms. Zaldivar said.
If submissions are deemed worthy of an award, they can either receive an honorable mention, American Vision and American Voices or a silver or gold key. Golden keys are given only to the best writers and artists because their submissions automatically are sent to New York for national judging. American Vision and Voices nominees will also participate in the national round. The judges are Regional-at-Large jurors, who will review the work based on the previous criteria from the first round; these National Awards will be announced on March 17 on the artandwriting.org website.
Winners of Gold and Silver Keys can also receive a Scholastics Awards Summer scholarship. This "need-and merit-based tuition" scholarship is available to students from grades seventh grade to 11th. They also have direct scholarships and tuition scholarships that are worth from $1,000 to $10,000.
Photographer: Maria Odio and Jose Sanchez
This poem is an extract from Jose Sanchez's poem that won a silver key award at the Scholastic Regional Competition.
The seven districts in Florida and the rest of the states except for Utah compete for the Scholastic Regional awards. Some United States Territories and Canada also compete in this competition if they are a part of the International Art and Writing Region-at-Large. Last year, there were over 300,000 entries for the 26 different categories. This year over 100,000 teenagers around the U.S., U.S. Territories and Canada submitted their art and writing pieces for review.
"I submitted a political commentary drama piece. I was very surprised to have won since it was a politically charged piece, but it was a pleasant surprise," senior Chloe Grant said.
Currently, Catharsis is recruiting members to become their Staff Writers and Layout Members. For those interested in applying, make sure to fill out their application before Feb. 26. For questions, email the team at [email protected]
About the Writer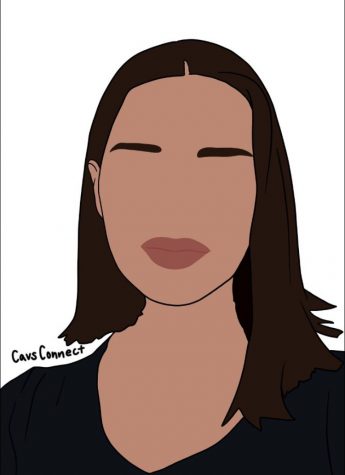 Maria Odio, CavsConnect Staff Writer
Maria Odio is a freshman at Coral Gables Senior high and is excited to begin her writing career as a staff writer on CavsConnect. Maria is looking forward...