Zendaya Makes Acting History
This year marked the 72nd Primetime Emmy Awards, hosted by Jimmy Kimmel and held at the Staples Center in Los Angeles. The Emmy is an American award presented to individuals who showed excellence in the television industry each year. Specific movies and television shows are also awarded. Like many other events, this year's show had to be adapted to the COVID-19 pandemic circumstances, and the winners gave speeches virtually from their homes. One of the most popular awards this year, which not only caused controversy but made history as well, was the Outstanding Lead Actress in Drama Series, won by Zendaya Maree Stoermer Coleman, known most commonly by her first name.
Zendaya is mostly known amongst teens and her audience was illustrated by the fact that she was the youngest person to ever receive this specific award. Her acting career began when starring in Disney movies and shows such as "Shake it Up" and "KC Undercover", later moving on to bigger Hollywood productions. She is also recognized for playing in two of the Spider-Man movies with Tom Holland. Her career took off after she played in "The Greatest Showman," in which she sang "Rewrite the Stars". Most notably, she currently plays Rue Bennett in the popular series "Euphoria". This was the first time she starred in such a serious role, as her character cycles through drug addiction and abuse throughout the show.
"I could not in any way understand how it is even arguable that Zendaya'a acting wasn't anything but outstanding, Zendaya did an amazing job," senior Sharon Florez said.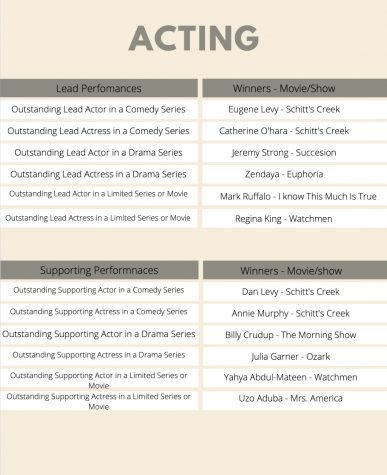 Many thought that Zendaya's win was expected as "Euphoria" was one of the most popular series on HBO this year. However, controversy arose when The New York Post tweeted about Zendaya's award. The tabloid's social media account announced her win as "Biggest Upset: Zendaya wins Emmys 2020 over Jennifer Aniston, Laura Linney". Little did they know, something as small as their word choice would generate immense backlash from Zendaya's fans.
As soon as this was tweeted, many "Euphoria" and Zendaya fans spoke up and replied to the tweet, standing up on behalf of the actress. Many tweeted their support, spouting praises about how much they enjoyed the show and that the win "was anything but an upset." Soon afterward, others pointed out that "upset" had a double meaning. As usually referenced in sports, an upset victory is when an underdog unexpectedly wins against known or favorite players. The New York Post still has not cleared up the situation by claiming the true meaning of the statement, but many of Zendaya's supporters were happy to see how quickly her fans rushed to her defense.
Zendaya also generated a lot of buzz due to the award making her the second Black woman ever to win an Emmy in the Drama category. The first ever was Viola Davis who made history in 2015 after playing as Annalise Keating in "How to Get Away with Murder." This was also one of the reasons fans were so quick to support Zendaya in the face of potential criticisms since many were overjoyed at seeing the success of a young black woman.
At the 2020 Emmys, more than 30 people of color were nominated in acting. This year was a record for the amount of trophies awarded to Black performers and shows that the Emmys are becoming more inclusive. Knowing that this year has been a fight for racial equality and that protests like the Black Lives Matter movement have been going on all around the world, this is a sign that the entertainment industry is also making great strides towards better representation in popular media.
"I think it is important to start seeing improvement in racial justice due to the Black Lives Matter movement," freshman Victoria Fauroux said.
The racial importance of Zendaya's win made the award that much more significant. But at the end of the day, it was a major win for the actress that her fans and supporters were excited to see. Although quite a controversy was stirred up, she still made history and earned recognition for her acting achievements.